LaCie Announces New Enterprise Class Storage Solutions
The LaCie Enterprise Class range is among the most sophisticated offerings on the market, and provides six data protection levels, robust performance, data encryption, superior connectivity, RAID protection, a professional backup offer, and an advanced service package
Designed for superior performance, the new product range comes with true internal SATA Enterprise Class disks, featuring 7200RPM and 32MB of cache memory. These high-quality internal disks target an ambitious 1.2 million MTBF (Mean Time Before Failure) and have been optimized for RAID towers with a vibration resistance technology. Professionals will get the ability to reach more than 700 MB/s of transfer speeds through a RAID 50 array with four LaCie 4big Quadra Enterprise Class. LaCie's Enterprise Class Product range features the most advanced service package on the market, consisting of a 5-year warranty and a 5-year advance product replacement plan.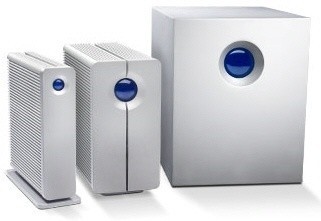 Ideal for creative professionals as well as those that need to preserve confidentiality, the Enterprise Class product range features government-grade 128-bit AES hardware encryption. This trusted security technology allows users to encrypt digital assets and prevent unauthorized access. The LaCie Desktop Manager software provides the flexibility to define up to ten users, ensuring customizable accessibility to protect intellectual property.
"The introduction of LaCie's Enterprise Class product range responds specifically to niche industries such as creative professionals, as well as those in the medical, legal, and accounting fields, who require highly robust and reliable storage solutions to manage their digital assets," said Arnaud Prezelin, LaCie Product Manager for Creative Pro Solutions. "Adding Enterprise Class functionality to our recognized solutions line has made these products the most reliable and secure solutions in their respective product classes, while delivering leading-edge performance."
The entire range of Enterprise Class products will also ship with specialized cables that provide ultra high-quality signal transfer. Made with creative professionals in mind, the cables include 24K gold-plated contacts that, when combines with Enterprise Class drives, help preserve the highest level of performance over the products lifetime.
Designed in aluminum by the world-famous product designer Neil Poulton, the entire range of Enterprise Class products include four interfaces for universal connectivity, energy-efficient cooling capabilities, as well as customizable backup software - Genie Backup Manager Pro for Windows and Intego Backup Manager Pro for Mac. The LaCie 2big Quadra Enterprise Class and LaCie 4big Quadra Enterprise Class also include customizable RAID modes including RAID 0, RAID 1 or RAID 5, making the Enterprise Class product range the most complete and reliable product range for secure data storage.
The LaCie Enterprise Class range will be available in a variety of capacities from 1TB to 8TB through the LaCie Online Store, LaCie Reseller+ and LaCie Storage Partner starting at the suggested retail price of $299 for the LaCie d2 Quadra Enterprise Class, $649 for the LaCie 2big Quadra Enterprise Class, and $1349 for the LaCie 4big Quadra Enterprise Class (excluding VAT).
Last updated: Apr 7, 2020 at 12:01 pm CDT