SteelSeries Siberia v2 Headset Selected For The 52nd Annual GRAMMY® Awards Performers and Presenters Gift Bag
- GRAMMY Award Presenters and Performers Will Have a Chance to Experience the Headsets Superior Soundscape and Comfortable Design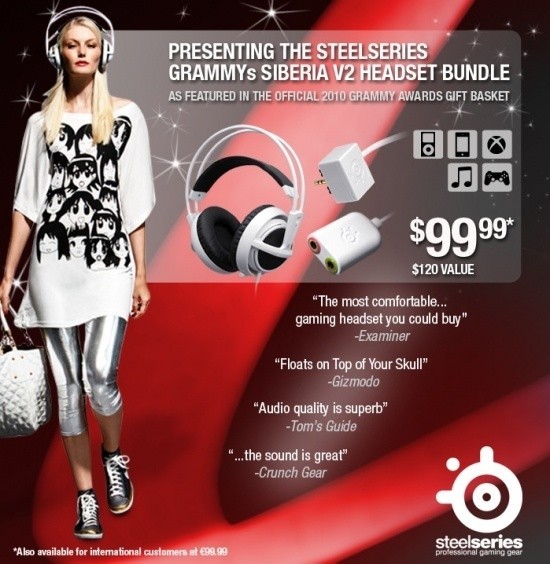 CHICAGO, Jan. 26, 2010 - SteelSeries, a leading manufacturer of game peripherals and accessories, today announced that the SteelSeries Siberia v2 Headset has been selected to participate in the 52nd Annual GRAMMY® Awards official gift bag. As the headset of choice for both gamers and music lovers, the SteelSeries Siberia v2 Headset brings GRAMMY presenters and performer's superior sound and microphone technology in a stylish and comfortable design.
"We are honored to be selected and associated with the 52nd Annual GRAMMY Awards and provide our signature Siberia line of audio headsets to presenters and performers in the legendary GRAMMY Gift Bag," said Bruce Hawver, SteelSeries CEO. "SteelSeries customers are power users who demand outstanding audio, and we pride ourselves on providing an unparalleled experience to them whether they're dominating their opponent on PC or Xbox 360, chatting on VoIP or mixing and listening to music."
The SteelSeries Siberia v2 GRAMMY Awards gift bag bundle will also include the SteelSeries Xbox 360™ Connector, which can be used for console gaming as well as the SteelSeries Mobile Device Adapter which can be used with the iPhone, iPod touch (2nd Gen) and other portable digital devices and allows the use of any standard PC headset with 3.5 mm plugs. GRAMMY presenters and performers will be able to use their SteelSeries headset bundle for gaming, music and VoIP.
The SteelSeries Siberia v2 Headsets feature 50mm speakers that amplify the bass and overall volume along with the frequency response of 10-28,000 Hz. Optimized for professional gaming as well as for music, the headset features a crystal clear soundscape for high, low, and mid-tones as well as thick leather ear-cups for sound isolation. The SteelSeries Siberia v2 is lightweight while its trademark headband suspension construction makes it extremely comfortable for use over long periods of time.
The 52nd Annual GRAMMY Awards will be held on Sunday, Jan. 31 at STAPLES Center in Los Angeles and broadcast live on CBS at 8 p.m. ET/PT. Check out the SteelSeries Siberia v2 Headset Bundle at
http://steelseries.com/grammys
.
About SteelSeries
SteelSeries is a leading manufacturer of gaming peripherals and accessories, including headsets, keyboards, mice, software and gaming surfaces, selling in more than 75 countries. SteelSeries has been on the forefront of professional gaming gear since its inception in 2001, thanks to continued innovation and product development in cooperation with leading professional gamers. All SteelSeries products are developed in co-operation with professional gamers to ensure optimum performance and durability. SteelSeries supports the growth of competitive gaming and electronic sports through professional team sponsorships and community support all over the world. For more information, please visit www.SteelSeries.com.
Last updated: Apr 7, 2020 at 12:01 pm CDT