ARCTIC GC PRO - All-in-One Game Console to Get Everyone Moving
All-in-One Game Console to Get Everyone Moving!
(Pfäffikon/Switzerland, 27 January 2010) Stand up and play! Today, ARCTIC COOLING launched a TV game console - the ARCTIC GC PRO. This all-in-one console is packaged with built-in games, wireless controllers and various add-ons. Featuring high resolution 3D graphics, playing the ARCTIC GC PRO at home is like playing in the fields!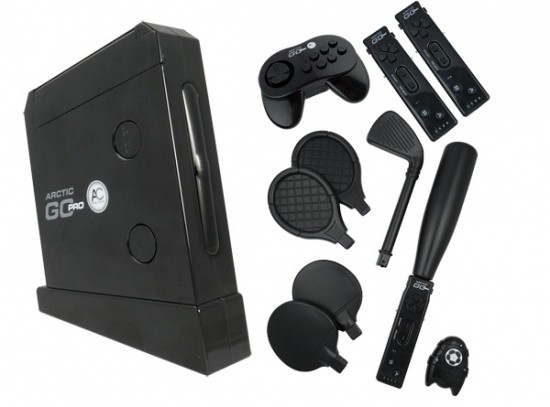 Sporty, fun and witty built-in games
The ARCTIC GC PRO contains 48 built-in games, offering a wide variety of games to get everyone moving:
Sporty and active
Now you can play tennis, baseball, bowling, golf, table tennis and even skiing at home! These exciting sport games are all included in the ARCTIC GC PRO. Simply
insert the add-ons in the wireless controllers - tennis racket, table tennis bat, golf club, baseball bat and a football controller - to enjoy life-like gaming and play like an athlete!
Cool and groovy
Racing, treasure hunts, strategy games are all time favourites and they are preprogrammed in the ARCTIC GC PRO. Kids and adults will love the fun brought from these games!
Intelligent and witty
Gaming is a good learning tool as well. The ARCTIC GC PRO comprises different analytical and mathematical games such as Sudu, Russian Blocks and puzzles.
Play more, think more, learn more.Sharp and clear 3D images
Featuring a 32-bit 3D processor, the ARCTIC GC PRO delivers lifelike and detailed graphics. In addition, with 3D imaging, the ARCTIC GC PRO process heart-stopping realism to enhance the overall gaming experience to a new level.
Great home entertainment for everyone!
2 people can play games simultaneously. The ARCTIC GC PRO comes with 2 cordless motion controllers so that you can either enjoy the game yourself or have a competition with one of your friends. You will have even more fun with the 7 add-ons - 2 tennis rackets, 2 table tennis paddles, a golf club, a baseball bat and a football "band" you can tie around your foot. Move and groove with the ARCTIC GC PRO!
The ARCTIC GC PRO comes with a 2-year warranty. The MSRP is US$57.90 / 39.90 €.
About ARCTIC COOLING
ARCTIC COOLING Switzerland AG is the trusted leader in IT hardware design, specialized in providing efficient and quiet thermal cooling solutions for laptops and PCs. Its core product categories include CPU and VGA coolers, case fans, PC cases and PSUs. For further expansion, the Company has extended its product line to various electric and electronic products such as alkaline and rechargeable batteries, battery, USB chargers and entertainment systems. Headquartered in Pfäffikon, Switzerland, ARCTIC COOLING operates international offices in Hong Kong and the US providing local shipping, customer service and sales support.
Last updated: Apr 7, 2020 at 12:01 pm CDT