Share your 3G mobile broadband boundlessly with Edimax wireless 3G portable router
Edimax 3G-6210n is a small and compact design wireless portable 3G broadband router targeted for all mobile or business users. It's built-in rechargeable Li-ion battery allows users to access Internet wirelessly via a 3G modem anytime and anywhere.
Sydney, Australia: 27 January 2010 - Edimax, a company dedicated to the design, development, and manufacture of leading networking solutions, today launched the Edimax 3G-6210n a portable wireless 3G/3.5G broadband router with a built-in rechargeable Li-ion battery.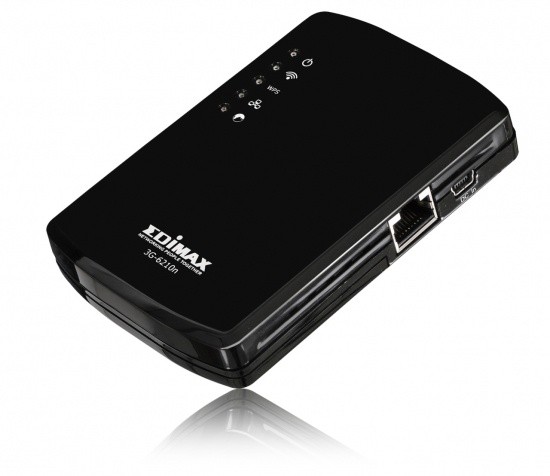 This compact and multifunction wireless 3G portable router offers the flexible high speed solution for business users to share either a 3G/3.5G connection or a XDSL/Cable connection with all network users. When connecting either a 3G or 3.5G (UMTS/HSDPA/CDMA) USB modem card, all network users can share 3G/3.5G Internet connection with data rates up to 7.2 Mbps together. It also will enable the xDSL/Cable broadband connection automatically when 3G/3.5G Internet connection is not available.
For employees away from the office, needing to keep up to date with emails and work, the battery powered Edimax 3G-6210n will not only solve the offline issue through sharing of wireless 3G or 3.5G USB device but will eliminate the need to be in areas that do not have the convenience of power points.
Populations living in metropolitan cities will be able to enjoy the flexibility of choosing either LAN, WAN or 3G/3.5G access point using the Edimax 3G-6210n and will no longer be restricted to areas without the need of a direct power supply. Students and business people alike can take advantage of the outdoors and field visits and take advantage of a shared internet connection among groups.
Edimax 3G-6210n complies with wireless 802.11b/g and when operates with the latest wireless 802.11n technology, it's wireless data transmission rate can reach 150Mbps and significantly increased wireless coverage 3 times more than 802.11b/g router.
The Edimax 3G-6210n includes unique 16 multi-languages EZMax setup wizard for you to setup internet connection, SSID, wireless security and firmware upgrade. It provides graphical user interface to guide you to finish the configuration easily by following the animated steps within minutes. It also supports Wi-Fi Protected Setup (WPS) technology for activated and advanced wireless protection. Simple One-Click WPS button helps you setup a secure wireless network in a snap.
Product Summary
Vendor: Edimax
Model: 3G-6210n
RRP: AU $199
Warranty: 3 year warranty
Website: http://www.edimax.com.au
Australian Distributors: Bluechip Infotech
Availability: Now
About Edimax
Edimax Technology is a global manufacturer of a broad range of networking and connectivity solutions. Since its foundation in 1986, the company has grown to be one of Asia's leading manufacturer of networking products and solutions. Edimax is headquartered in Taipei County, Taiwan, and has been a listed entity at the Taiwan Stock Exchange since 2001. In 2007, the company's revenue reached US $100 million and its current workforce count is over 900 employees worldwide. Edimax's complete product portfolio fulfils all connectivity needs, whatever the network architecture or application requirements are.
Last updated: Apr 7, 2020 at 12:01 pm CDT