MSI H55M-E33 Mainboard Takes Lead in Windows 7 Certification
Enjoy Windows 7 full functions on Your Home Entertainment PC
[Taipei - Taiwan] World-renowned mainboard and graphics card manufacturer, MSI, today announces the MSI H55M-E33 mainboard takes lead in acquiring Windows 7 Certification, proved again the hard technical capacity of MSI mainboard R&D team and the insistence of MSI in pursuit of perfection and in leading the trend.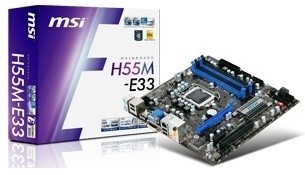 In the components, MSI H55M-E33 Mainboard is equipped with all solid-state capacitors, providing an extra-long lifespan and super stability, and the APS energy saving technology is second to none in power saving. From the viewpoint of entertainment, when MSI H55M-E33 mainboard is equipped with 32nm Intel Core i3/i5 CPU plus iGPU, it can provide a powerful display performance. With MSI exclusive OC Switch and GPU OC functions, it allows gamers to triumph in the head-to-head gaming tournament with great ease. Other than the above, MSI H55M-E33 mainboard provides also Lossless 24bit/192kHz HD Audio technology. Coupled with complete HDMI / DVI/ D-Sub video output back panel, consumers will immediately astonished with the remarkable audio & video shock when playing HD movies with Windows Media Player in Windows 7.
According to the features above, we can realize that after being certificated by Windows Hardware Compatibility Laboratory (WHCL), MSI H55M-E33 mainboard is not only outstanding in performance and in stability but also fully compatible with Windows 7 Operation System. If you intend to build an all-in-one Windows 7 home entertainment platform, MSI H55M-E33 mainboard must be the best choice you can not miss!
Last updated: Apr 7, 2020 at 12:01 pm CDT