2333MHz Corsair® Dominator™ GTX confirmed as World's Fastest Intel® XMP-certified memory
- Intel stamp of approval reinforces Corsair's status as the leading supplier of performance memory -
FREMONT, California, January 21, 2010 - Corsair, a worldwide leader in high-performance computer and flash memory products, today announced that the Dominator GTX1 ultra-high performance DDR3 memory module (CMGTX1) has passed Intel's XMP-Ready certification at the blistering speed of 2333MHz, surpassing Corsair's 2000MHz modules as the fastest XMP-certified memory in the world.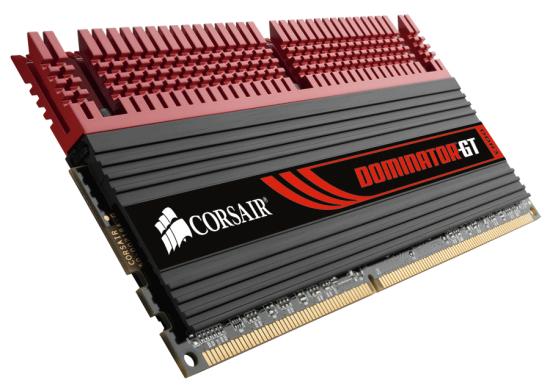 Corsair Dominator GTX modules are individually hand-screened and tested to ensure unmatched performance. They are designed specifically for enthusiasts and overclockers who want to achieve the highest performance possible, and to break benchmark world records.
Intel's engineers awarded the XMP-Ready certification to 2 x 2GB Corsair CMGTX1 modules running at the incredible frequency of 2333MHz using low timings of 9-11-9-27 at a voltage of just 1.65V. The test platform was a Gigabyte™ GA-P55A-UD4P motherboard. The successful XMP certification is a testament to the performance capabilities as well as the stability of both the memory and the target platform.
"Building the fastest memory for extreme overclockers and enthusiasts requires considerable engineering expertise, combined with a unique understanding of the complexities of overclocking," said Kevin Conley, VP of Engineering at Corsair. "Intel is one of the most meticulous and sophisticated technology companies in the world, and so achieving XMP-Ready certification at the astonishing frequency of 2333MHz once again clearly demonstrates Corsair's performance leadership."
Corsair Dominator GTX1 modules are individually screened and tested on multiple high-performance Intel P55 chipset platforms. In addition to the XMP-Ready certification at a frequency of 2333MHz, they are guaranteed by Corsair to operate at up to 2400MHz at timings of 9-11-9-27 at 1.65V.
Corsair Dominator GTX modules are available exclusively from
Corsair's Online Store
. They utilize Corsair's patented DHX+ heatsink and are supplied with extra-tall cooling fins to maximize heat dissipation. They are sold as a single module, allowing enthusiasts to simply buy the number of modules they require. Corsair recommends using the GT Airflow fan with tall mounting brackets, also available from the Corsair Online Store (part number CMXAF2 GTL).
As Corsair Dominator GTX1 modules are screened by hand, in multiple passes, at Corsair's lab in Fremont, California, availability is extremely limited and is on a first come, first served basis only.
More information about Intel XMP-Ready memory, including lists of XMP-certified memory products, can be found at:
http://www.intel.com/Consumer/Game/extreme-memory.htm
Images of the Corsair Dominator GT family can be downloaded from
here
For more information on Corsair DDR3 Memory for Intel Processors, please visit
http://www.corsair.com/products/memory_home.aspx
.
About DHX+ Technology
Corsair's patented DHX+ technology uses specially designed, high-quality heatsinks and a custom-designed PCB that allows both the front and rear of the memory ICs, as well as the printed circuit board itself, to be cooled. DHX+ technology also allows for the cooling fins to be removed, allowing for a range of modular cooling accessories including extended heatsink fins, the Corsair Cooling™ Hydro Series H30 water cooling block and Corsair Cooling™ Ice Series T30 sub-ambient cooling subsystem, which cools the memory up to 20°C below room temperature for maximum overclocking performance. DHX and DHX+ designs are covered by US Patent number 7,606,034.
About Corsair
Founded in 1994, Corsair Memory, Inc., is a worldwide leader in high performance components for personal computers. Specializing in very high performance memory and ultra- efficient power supplies, our flagship products, Including Dominator™ memory modules, are the choice of overclockers, enthusiasts, and gamers everywhere. Our expertise in design and manufacturing is also evident in our complete line of Flash Voyager® and Flash Survivor™ USB storage devices. Corsair offers 24/7 customer support via forums and the Tech Support Express helpdesk. For more information, please visit www.corsair.com
Copyright© 2010 Corsair. All rights reserved. All company and/or product names may be trade names, trademarks, and/or registered trademarks of the respective owners with which they are associated. Features, pricing, availability, and specifications are subject to change without notice.
Last updated: Apr 7, 2020 at 12:01 pm CDT