Super Talent Announces Enterprise Class TeraDriveTM SSDs based on SandForceTM SSD Processor
New SSDs Deliver Extreme IOPS and Outstanding Reliability
San Jose, California - January 21, 2010 - Super Talent Technology, a leading manufacturer of Flash storage solutions and DRAM memory modules, today announced a new line of TeraDrive SSDs designed specifically for high end enterprise and database server applications.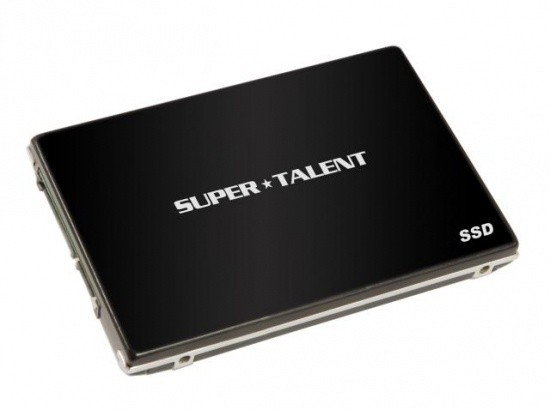 "Super Talent has a solid track record of developing leading edge SSDs. Their new TeraDrive series, incorporating SandForce technology, is an impressive advance in enterprise storage" commented Thad Omura, VP Marketing at SandForce Inc.
The new TeraDrive FT2 is a SATA 3Gbps SSD based on the advanced new SandForce SF-1500 SSD processor. It delivers sequential read and write speeds up to 250MB/sec that will not degrade over time. It also supports blazing fast transaction speeds up to 30,000 IOPS, making it a formidable storage solution for database servers where random read and write speeds are critical.
The TeraDrive FT2 makes no compromises in reliability or endurance with state-of-the-art wear leveling, bad bit management, and excellent ECC with up to 24 bytes correctable per 512 byte sector. Set to revolutionize enterprise storage, the TeraDrive FT2 is available with either MLC or SLC NAND flash, and is offered in capacities from 50GB to 400GB.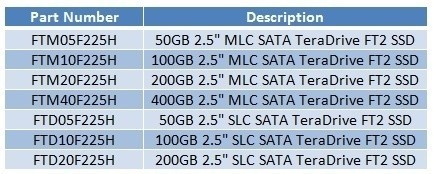 According to Joe James, Director of Marketing at Super Talent, "We engineered the TeraDrive FT2 for optimum performance and reliability in server applications, especially where fast random access to small files is needed". MLC and SLC TeraDrive SSDs are available to OEMs directly from Super Talent in sample quantities this month and in volume later in Q1/2010.
-
Product Images
-
Product Specifications
About Super Talent Technology
Super Talent Technology Corporation based in San Jose, California, designs and manufactures a full range of DDR, DDR2, and DDR3 memory modules and Flash based storage devices for computers and consumer electronics. An ISO 9001 certified company, Super Talent utilizes its state-of-the-art factories and leading-edge components to produce award winning products with outstanding reliability. Super Talent is an active member of the JEDEC and ONFI standards bodies. With over 250 patents, the company was ranked 38th in the 2008 Wall Street Journal's Patent ScorecardTM for the IT industry.
About SandForce
SandForce is transforming data storage by pioneering the use of commodity flash memory in enterprise and client computing applications with its innovative SSD (Solid State Drive) Processors. By delivering unprecedented reliability, performance, and energy efficiency, SSDs based on patent-pending SandForce DuraClass technology unleash the full potential for mass-market adoption of SSDs using NAND flash memory. Founded in 2006, SandForce is funded by leading venture capital investors and first tier storage companies. For more information, visit SandForce at www.sandforce.com.
Last updated: Apr 7, 2020 at 12:01 pm CDT