Whole New World of Lightweight and Ultra-Thin Technology: X-Slim X620
The X-Slim X620, winner of the German iF Product Design Award, is equipped with a built-in DVD drive, discrete graphics card and the high-performance Intel Core 2 Duo processor, boasting an ultra long-lasting battery life of 11 hours!
[Taipei] MSI's 15.6" model X-Slim X620 has a built-in optical drive and the ATi Mobility Radeon HD 5430 3D discrete graphics card (which comes with 1GB DDR3 VRAM) and employs the high-performance Intel Core 2 Duo processor. The case is covered with MSI's exclusive textured patterning with color film print coating and has a frame design with a unique personality and exquisite appearance. Coupled with MSI's exclusive 3D Boost and ECO power-saving technologies, an ultra-long battery life of up to 11 hours is possible.
MSI Notebook Marketing Director Sam Chern points out that the X620 is the latest masterpiece in MSI's X-Slim Series, carrying on its ultra-thin and elegant traditions. Its exterior has also incorporated a number of classic elements both stylish and practical, including MSI's distinctive textured patterning with color film print coating and Chiclet keyboard. The notebook is completed with elegant silver borders. With its superior hardware and software performance and appearance, the model won the 2010 German iF product design award!
New Paradigm for Ultra-thin Technology Attested to by iF Award
Ultra-thin and Elegant: Lightweight with soft contours and bright crystal color film print coating, MSI's X-Slim X620 exhibits grace and elegance. The large-sized 15.6" model has retained the ultra-thin tradition of the X-Slim Series. With a built-in optical disc drive, discrete graphics card and large-capacity 8-cell battery, it weighs just 2.4kg, representing a perfect combination of sleekness and high performance, not to mention it winning the 2010 German iF product design award.
All New Distinctive Chiclet Keyboard: The X620 employs MSI's distinctive Chiclet keyboard to allow not only a simple and stylish design but also comfort in text entry. It also reduces keyboard noise and prevents the inadvertent pressing of other keys, thus providing the most seamless keyboard experience. Whether it is word processing or instant messaging, data entry has never been easier.
Multi-point Touchpad and Touchpad Locker: In addition, the X620 is equipped with a built-in multi-point touchpad. Without the use of the mouse, the user can use two fingers to enlarge, reduce, rotate images or control page scrolling when viewing Web pages and pictures. A Touchpad Lock is located at the top part of the touchpad, to disable it on demand, so that the user will not be caught off guard by inadvertent touchpad action.
Performance and Audiovisual Capabilities: Dual Breakthrough
Intel Core 2 Duo Processor: X620 is powered by Intel's Core 2 Duo processor. It not only consumes less power and dissipates less heat but is also capable of enhancing the performance of an ultra-thin notebook, allowing it to run multiple simultaneous applications smoothly, significantly increasing productivity.
ATi Mobility Radeon HD 5430 (1GB DDR3 VRAM) : The X620 is configured with the ATi Mobility Radeon HD 5430 high-end 3D discrete graphics card with 1GB of built-in VRAM. With the bright 16:9, 15.6-inch LED-backlit glossy screen, color-rich, high-resolution, fine-grained and ultra-realistic visual effects can be achieved. Coupled with SRS Premium Sound™, it is able to provide you with the most immersive and realistic audiovisual experience.
Eleven-hour Ultra Long Lasting Battery Life*
MSI's Exclusive ECO Engine Energy-Efficient Technology: The 15.6" 2-Spindle model X-Slim X620 with discrete graphics card comes equipped with MSI's exclusive ECO Engine energy-saving technology. Combining perfectly with Intel's CULV platform, this provides up to 11 hours of battery life! The ECO Engine technology allows you to choose from five power management modes: video games, movies, presentations, word processing, and Turbo Battery, which automatically adjusts screen brightness, power switch, hibernation settings, processor performance and so on, so that battery power can be managed in a more flexible manner.
Exclusive 3D Boost Technology: The X-Slim X620 comes with MSI's exclusive 3D Boost technology to help you achieve a perfect balance between audiovisual performance and battery life! When running an application that requires high-performance power in image processing, just press the 3D Boost button and the X620 will automatically switch to high-performance external display mode, giving you the ultimate audiovisual experience. When you need to work in an environment that requires long battery life, just press the Battery button and the machine will switch to the integrated display mode and shut down the external graphics card to conserve battery power.
*Actual battery life depends on operating conditions and configurations.
Complete Enjoyment of Digital Entertainment
Built-in DVD Super-Multi Drive: The MSI X-Slim X620 has a built-in 9.5mm DVD Super-Multi drive, the thickness of which is 25% less than that of the conventional optical drive, which not only makes the X620 lightweight and portable but also brings a complete audiovisual entertainment experience to the user.
MSI EasyViewer: X620 is preloaded with a number of exclusive software packages developed by MSI, including EasyViewer, which employs a 3D display mode that allows zoom-in, zoom-out, full-screen or auto-playback for previewing images. It is also possible to edit pictures under the Slide mode: image enlargement, reduction, 90-degree and fine-tuned rotation. You can even use the HDII image enhancement, intelligent white balance, HDII image enhancement, intelligent white balance, and image sharpness adjustment features to make your pictures richer, more alive and more textured.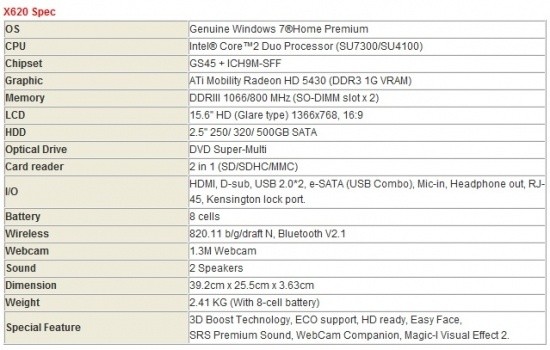 Last updated: Apr 7, 2020 at 12:01 pm CDT