PowerColor Announces LCS Radeon HD 5970 Liquid-Cooled Graphics Card
TUL Corporation, a leading manufacturer of AMD graphics cards, is thrilled to announce the world's fastest GPU with liquid cooling solution: the PowerColor LCS HD5970 2GB GDDR5. Equipped with the award-winning EK cooling solution, LCS HD5970 enables superior gaming experiences, and easily boosts up the potential overclcoking ability in an ultra quite and cool operating environment.
PowerColor LCS HD5970 has a full water block mounted, which fully covers the memory and power regulator chip. With a copper base design, it is reduces temperature up to 30°C compared with the reference version. PowerColor packages a high-flow 3/8" and 1/2" fittings (barbs) to maximize water flow with captured o-rings to prevent leakage. Gamers can effortlessly customize their own liquid cooling system using these two fittings.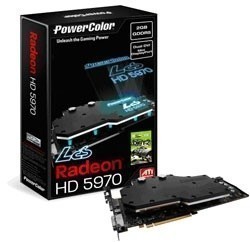 "The fastest GPU should pack with the most efficient way to cool down the card so it extend its real potential performance easily;" said Ted Chen, CEO of TUL Corporation. "LCS HD5970 partnered with EK water cooling solution to deliver an incredible gaming performance in an optimum stable operating environment. This will be the best combo you've never seen before."
DiRT2 Game Bundle: Unleash DirectX 11 gaming power
Giving all gamers to experience the latest DirectX 11 technology, PowerColor includes DiRT2, the most popular racing game, into LCS HD 5970. DiRT2 is a world tour of adrenaline-fuelled extreme off-road events in stunning real-world locations. With the support of DirectX 11 technology, this latest game delivers the most realistic, immersive and exhilarating racing experience to gamers.
The PowerColor LCS HD5970 will be available on January 21st.
Last updated: Apr 7, 2020 at 12:00 pm CDT