Kid Computer Is Proud to Introduce The Premier Kids Cybernet Station
Kids Cybernet Station is an All-In-One computer package designed for the classroom, libraries and daycares that includes everything you could need for a child student friendly workstation.
Norman, Ok - January 18, 2010- The Kids CyberNet Station is an All-In-One computer package that includes everything you could need for a child /student friendly workstation. These powerful systems include Intel Dual Core processors, 4 GB of Ram, 500 GB Hard Drive, DVD-ROM / CDRW, 19" Flat Touch Screen Monitor, HD Audio with SoundBlaster Pro compatibility and speakers, 2 Gigabit Fast Ethernet connections, Intel Graphics Media Accelerator, The latest Windows 7 and a LOT of preloaded software combined with a virtual CD-ROM to eliminate the need to swap CDs to run programs. Everything is packaged into a single housing around the monitor; the computer is virtually invisible, because there is no PC tower. This All-In-One style helps reduce the clutter of extra chords and creates half the footprint of traditional computers.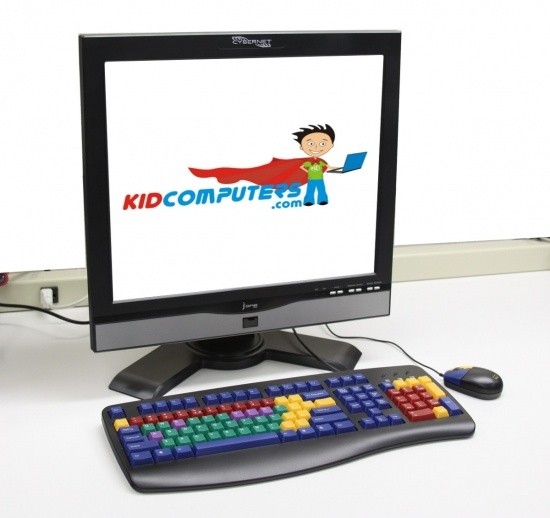 Windows 7 offers parental controls that help parents determine which games their children can play, which programs they can use, and which websites they can visit-and when. Parents can restrict computer use to specific times and trust that Windows Vista will enforce those restrictions, even when they're away from home. Parental Controls panel, part of the User Accounts and Family Safety Control Panel applet, centralizes all of the key settings of the Windows 7 Parental Controls. From the Parental Controls panel, you can review activity reports that show how your children have been using the computer and then, refine and modify parental controls based on actual feedback.
Setting up a Kids CyberNet Station is as simple as taking it out of the box, plugging in the power cord, keyboard and mouse and pushing the on button. It is really that simple! We have taken care of all the rest including an innovative way of making CDs hassle free. A 19" touch screen is built directly into the monitor. The touch screen technology adds an extra dimension to the computer experience which allows for exciting new ways for children and students to interact with programs and applications. Playing Educational games becomes more interactive and a lot more fun!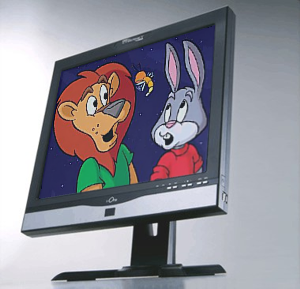 Another great feature of the Kids Cybernet Station is you don't need to go looking for your CDs again! All the software is pre-loaded and a virtual CD-ROM is implemented which eliminates the need for inserting and swapping CDs to run a program. This hassle free software implementation is ideal for the class room and public access stations as well as being very convenient for home and personal use. Also included is a video tutorial which shows you step by step how you can transform most CD required software onto the computer using the virtual CD-ROM system.
Our Mission is to supply great computer packages for children /students that are kid friendly, safe, and easy to use.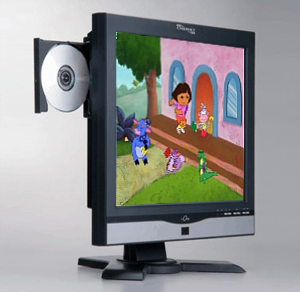 We are very proud to offer a wide variety of educational and learning software. A huge software collection is preinstalled and setup to not require a CD to run. Software packages are determined by the system package and include the most popular children's games and educational titles. All Kids CyberNet Stations also include Peanut Butter Software, an easy and safe desktop sandbox for kids to use. Peanut Butter hides all the Windows components and extras that you don't want young children clicking on. It is also a great security system locking users into a controlled desktop environment. Administrators can customize the programs and web pages you want to allow users to access. Profiles can be created for individual users, groups and classes. Running a program is as simple as touching the icon on the screen or clicking the mouse.
Types of packages include:
• Early Learning Package- for ages 2 to 5 (toddler to pre-k)
• Elementary Package - for ages 5 to 11 (kindergarten to 5th grade)
• Middle & High School Package - for ages 11 to 18 (6th grade to 12th grade)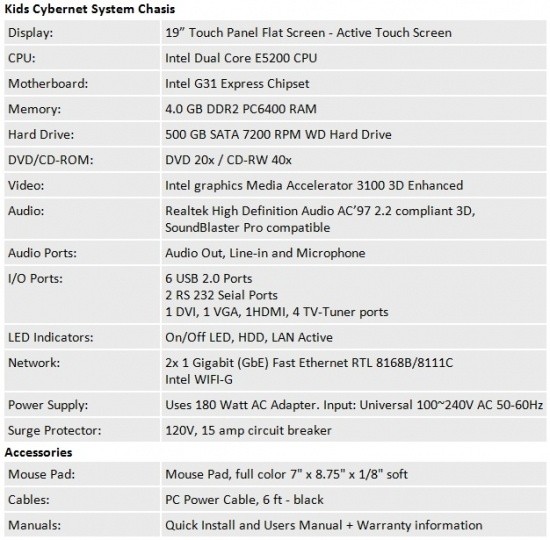 The Kid Cybernet Station Starts at $1,999.00 and is now available exclusively at
www.kidcomputers.com
At Kid Computers our company is dedicated to offering the latest technology available in computer systems and accessories for children of all ages. We have been supplying special designed computers for schools, daycares, libraries, and home use since 1999. These are not toy, mock, used, or refurbished systems. All of our computers are custom built in our shop by professional computer technicians using only new brand name quality parts.
Last updated: Apr 7, 2020 at 12:00 pm CDT