Intel X EVERCOOL = National Overclocking Campaign
Taipei, Taiwan-2009-EVERCOOL Thermal Corp., Ltd., one of the famous and professional cooler and fan manufacturers in Taiwan.
In the end of 2009, Intel has launched LGA1156 CPU. Its price is more competitive than LGA 1366, and "TURBO BOOST" is designed in the chip. That makes CPU speed be faster and automatic overclocking without setting. As it overclocks, the clock rate of Core i5 750 CPU is from 2.67Ghz to 3.53Ghz. Not only gamers can experience overclocking, but also users can feel the quick process; therefore, it can be said a "national overclocking campaign".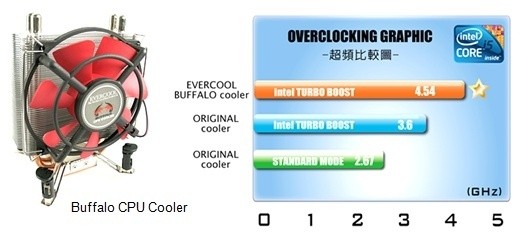 For heat from Intel LGA 1156 overclocking, EVERCOOL provides two CPU coolers: Transformer 4 (HPJ-12025) and Buffalo i5 version (HPFI57) as the cooling solution. As Buffalo i5 (HPFI57), which installs on CPU Intel Core i5 750, overclocks successfully and collocates with Intel TURBO BOOST, the clock rate increases from 2.67Ghz to 4.54Ghz. In addition, the temperature reduces around 10 degrees ( Picture 1).

The other CPU cooler- Transformer 4 (HPJ-12025) also passes the test. As Transformer 4 installs on Core i7 870 board, it also can overclock successfully. And when TURBO BOOST works, the clock rate increases from 2.93Ghz to 4.46Ghz; moreover, the temperature declines remarkably and can keep under 80 degree (Picture 2).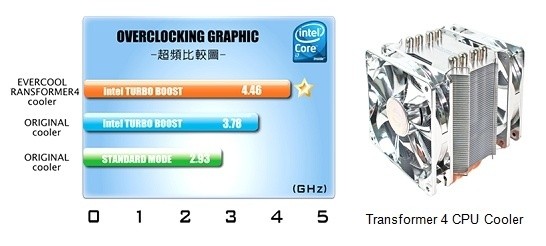 From the above tests, it can be known that as both EVERCOOL Transformer 4 and Buffalo work with Intel, the overclocking results are prefect and the temperature caused from overclocking can decrease outstandingly as well. This overclocking results make gamers experience CPU overclocking; furthermore, both of two coolers are the best choice for CPU cooling.
Last updated: Apr 7, 2020 at 12:00 pm CDT