MSI P55-GD85 supports SATA 6Gb/s and USB 3.0 - Pioneering Full-Function Design Trend
New Member add to MSI P55 Mainboard Family
[Taipei - Taiwan] World renowned mainboard and graphic card manufacturer, Micro-Star International Co., Ltd. again presents its P55-GD85 mainboard, and is officially supporting the Intel latest 32nm process and LGA1156 packaged Core i3 / i5 / i7 series CPU. In addition, the mainboard is built-in with SATA 6Gb/s and SuperSpeed USB 3.0 protocols and each has 2X and 10X ultra-high data transmission bandwidths respectively than their predecessors. OC Genie, SuperPipe and DrMOS, the 3 excellent design inherited from Xtreme Speed P55 series mainboard, are incorporated providing P55-GD85 mainboard with best compatibility and can offer outstanding performance.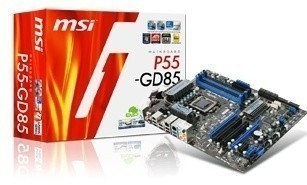 Support SATA 6Gb/s and USB 3.0, distribute bandwidth effectively with built-in PLX chip
MSI P55-GD85 Mainboard is specially built in with Marvell and NEC chips to provide SATA 6Gb/s and SuperSpeed USB 3.0 support, which gives ultra-high transmission bandwidth as high as 6Gb/s and 5G/bs and free it from the bottleneck of performance. Also, PLX PCI-E bridge chip is introduced specifically to multiply the PCI-E bandwidth as well as most effective distribution when using the functions of SATA 6Gb/s and USB 3.0 functions. Only in such a design can it exercise the complete efficacy of SATA 6Gb/s and USB 3.0. This design is totally different from the new P55 products of a well-known brand, who removed the built-in PLX chip and sacrifices PCI-E graphic cards' performance to provide such two functions. Comparing to the manipulation of finesse, the insistence in design of MSI is clearly seen.
OC Genie 1 second automatic overclocking, upgrade overall performance without any setting
Other than SATA 6Gb/s and USB 3.0 support, MSI P55-GD85 mainboard is equipped with the industry-leading OC Genie automatic overclocking technology - just press the OC Genie button on the mainboard and wait about 1 second, the overclocking is achieved and settings of CPU, memory and chipset are optimized. This allows large scale lifting of overall performance. Whether users want to watch a high bit-rate HD movie or go online for some head-to-head gaming, both can be enjoyed with image performance that is smoother and lag-free!
DrMOS provides ultra-high power efficiency & SuperPipe heat dissipater
MSI P45 Series mainboards & higher are equipped with DrMOS power supply modules. Its 3-in-1 chipset design provides four times the response time of traditional power supply design, and with a power utilization efficiency of over 90%. Not only that, but MSI has incorporated its high-end SuperPipe design to conform with the market's thickest, full copper 8mm main heat conduit, which has a 60% larger diameter than standard heat conduits. This provides the critical components of the mainboard with the most effective thermal design.
Through the features as listed above, MSI P55-GD85 Mainboard is, on the basis of MSI Xtreme Speed design concept, then to extend the 3 major MSI exclusive OC Genie, SuperPipe and DrMOS technology with the high stability MSI maintains. The introduction of latest Intel 32nm LGA 1156 Core i3 / i5 / i7 series CPU support, and SATA 6Gb/s / USB 3.0, demonstrated the insistence of MSI in incessant innovation and in providing users with remarkable performance experience and peripheral compatibility. All these features and characteristics make MSI P55-GD85 mainboard a premium choice of latest full-functional P55 products.
Last updated: Apr 7, 2020 at 12:00 pm CDT