MSI X-Slim X420 - Ultra Lightweight, Ultimate in Audiovisual Capabilities - Boasting the Allure of Urban Fashion
The X-Slim X420 is equipped with Intel Core 2 Duo dual-core processor, ATI Mobility Radeon HD5430 3D external graphics card (with built-in 1GB DDR3 RAM) ,SRS-certified audio, and features a battery life of up to 9 hours.
[Taipei] MSI's latest ultra-thin and lightweight X-Slim Series of the dual-core model, X420, features the Intel CULV ultra-portable and energy-efficient platform equipped with the Intel Core 2 Duo processor together with ATI's Mobility Radeon HD5430 3D external display adapter (with built-in 1GB DDR3 VRAM), SRS-certified audio, as well as a battery life that lasts up to 9 hours.
MSI Director of Marketing Sam Chern points out that the X-Slim X420 is MSI's?latest 14-inch ultra-thin notebook that carries on X-Slim Series' fine tradition of thin and elegant design. Weighing only 1.88kg, the entire unit is no more than one inch thick. The exterior of the new generation X420 is decorated with many new fashion elements. MSI's exclusive textured pattern color film print coating is used, the cover is treated with translucent Cappuccino Brown color, and the palm rest area is coated with golden film. The entire unit from the inside out is imbued with a bright and smooth pearl texture, redefining the new standard for notebook fashion!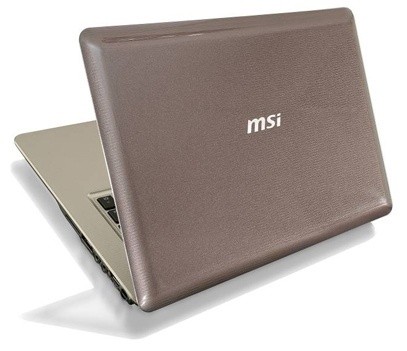 Dream Machine in Mobile Computing
All New Cappuccino Brown Color Film Print: The case of X-Slim X420 has an urban fashion theme with a touch of feather curve. Coupled with the pearl luster of MSI's exclusive color print film and the smooth and translucent Cappuccino Brown color, the super-fine and delicate texture creates a breathtaking golden-ratio profile for the unit.
MSI's Distinctive Chiclet Keyboard: X-Slim's featherweight profile, all-new Cappuccino Brown color print film, coupled with the golden coating in the palm rest area, as well as MSI's distinctive Chiclet keyboard with multipoint touch-pad and the case that is treated with a textured pattern all make the X420 the dream machine for mobile computing, and a new definition for laptop style is born.
Ultimate Audiovisual Experience with Unsurpassed Performance
Intel Core 2 Duo Processor: The X420 employs Intel's ultraportable CULV energy-efficient platform, which features low heat dissipation and low power consumption. It is equipped with Intel's Core 2 Duo processor, enabling the ultra-thin and lightweight notebook to have an ultimate processing performance and allowing you to use the ultraportable X420 to run multiple applications concurrently or to work on any task effortlessly, increasing your work efficiency significantly.
Built-in ATI Mobility Radeon HD5430 3D External Display Adaptor (with 1GB DDR3 VRAM): Using an ultra-thin laptop no longer means giving up audio and video processing power! X420 is equipped with a built-in ATI Mobility Radeon HD5430 3D external graphics adaptor (with 1GB DDR3) and SRS Premium Sound™, the ultimate in audio quality, to allow you to enjoy fine quality pictures and bright colorful display as well as the most exquisite acoustic effects. Multimedia experience has never been so enjoyable and realistic.
Nine-hour Ultra Long Lasting Battery Life*
Exclusive 3D Boost Technology: The X-Slim X420 comes with MSI's exclusive 3D Boost technology to help you achieve a perfect balance between audiovisual performance and battery life! When running an application that requires high-performance power in image processing, just press the 3D Boost button and the X420 will automatically switch to high-performance external display mode, which will provide you with the ultimate in audiovisual experience. When you need to work in an environment that requires long battery life, just press the Battery button and the machine will switch to the integrated display mode and shut down the external graphics card to preserve battery power.
Exclusive ECO Engine Energy-Efficient Technology: With MSI's exclusive ECO Engine energy-saving technology, you can freely choose among the five power management modes: video game, movie, presentation, word-processing, and Turbo Battery, which automatically adjusts screen brightness, power switch, hibernation settings, processor performance and other settings, so that the battery's power can be allocated in a more flexible and effective manner and its life can be effectively extended. Real-life tests have demonstrated that X420's battery can last up to 9 hours. It allows you to work for the entire day uninterrupted without the need of a power cord.
*Actual battery life depends on operating conditions and configurations.
Exclusive Software Developed by MSI Makes Your Computer Smarter
MSI EasyViewer: The X420 ?is preloaded with a number of exclusive software packages developed by MSI, which make your laptop smarter and more user-friendly. The unique EasyViewer software employs a 3D display mode that allows zoom-in, zoom-out, full-screen or auto-playback for previewing images. It is also possible to edit pictures under the Slide mode: image enlargement, reduction, 90-degree and fine-tuned rotation. You can even use the HDII image enhancement, intelligent white balance, HDII image enhancement, intelligent white balance, and image sharpness adjustment features to make your pictures richer, more alive and more fine-grained.
MSI EasyFace: X420 also has a built-in MSI-exclusive face recognition program called EasyFace, which provides your laptop with high-grade information security protection! All you need to do is to use the EasyFace Manager software to take several pictures of yourself with X420's built-in high-resolution webcam and register them on the computer. You can then simply use the EasyFace Autolocker and EasyFace Logon to provide the best protection for your laptop with this high-end biometric system!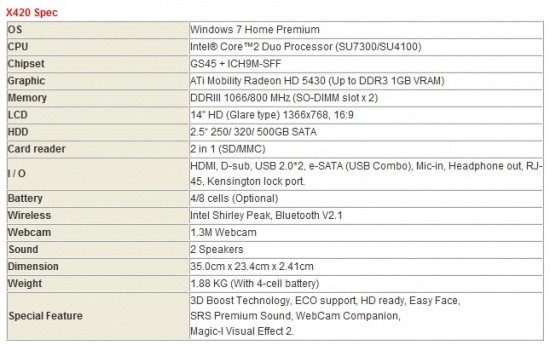 Last updated: Apr 7, 2020 at 12:00 pm CDT