Lenovo Unveils SMB's Next Desk Side Companion with ThinkCentre A63 Desktop
Lenovo today announced the ThinkCentre A63 desktop, an essential desk side companion for small-to-medium businesses (SMB). The new desktop combines powerful productivity features such as Lenovo's Enhanced Experience for Windows 7 for blazing fast boot-up time and choices for the latest AMD Sempron processors, AMD Athlon II processors and AMD Phenom II processors, all at an affordable price tag starting at $329.
"We know that PCs are the technology backbone for SMBs to run their businesses," said Dilip Bhatia, executive director, ThinkCentre Marketing, Lenovo. "The new ThinkCentre A63 desktop delivers on the three 'P's' that businesses need in today's fast-paced, cost-conscious environment: power, peace of mind and price."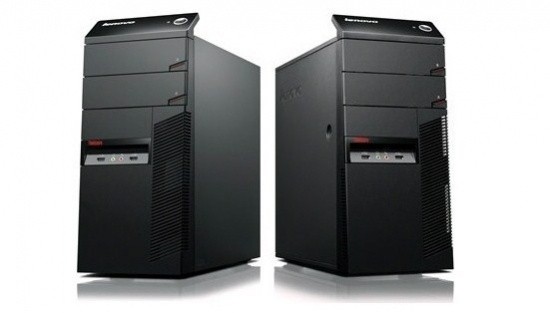 The feature-packed ThinkCentre A63 desktop helps SMBs stay connected, productive and secure without requiring major investments in IT or technical know-how.
• Advanced Performance - The A63 comes equipped with choices of AMD's latest 45nm processors to make multitasking easy across multiple applications while also using energy efficiently. Direct X10 integrated graphics support high-end 3-D applications needed for businesses in vertical industries such as engineering, graphic design and film production.
• Increased Productivity - Ideal for financial market analysts and entry engineers, the A63 supports dual independent displays for an expanded work area. It also supports up to a 500GB hard disk drive and up to 1333 MHz DDR3 memory. Eight USB ports make the desktop a flexible hub to access and store documents and multimedia files.
• Communication Tools - An optional high-resolution webcam and preloaded Skype application make the desktop an ideal voice over Internet protocol (VoIP) center. VoIP conferences can help save time and travel expenses by allowing users, especially small businesses, to participate in business meetings without leaving the office.
• Enhanced Security Tools - Using the Lenovo Hard Disk Drive Retention tool as part of Lenovo warranty services, users can now keep their hard drives after retiring their PCs to ensure sensitive business data remains with them. Users with a home office or those without a business server can purchase Lenovo's Online Backup service for secure, encrypted and offsite storage for their data.
• Green, Easy to Use Technology - The ThinkCentre A63 is GREENGUARD certified : , meaning it has been tested for up to 2,000 different chemical emissions. The A63 also features a simple design with an easy to reach power button on the top and a top handle for easy transport.
Lenovo's Enhanced Experience for Windows 7
Lenovo has optimized the ThinkCentre A63 desktop for an excellent computing experience, particularly around saving users time during boot up and shut down. On average, Lenovo Think PCs with Enhanced Experience for Windows 7 boast 57 percent faster boot times and five second shutdown times compared to other Think PCs running Windows XP or Vista. 1
360 Degree Customer Support
When purchasing PCs, SMBs often consider the support they will receive after the sale. To meet these needs, Lenovo offers a variety of flexible warranty options : for the ThinkCentre A63 desktop as well as a ThinkPlus Priority Support : enhanced service plan. Priority Support features 24x7 priority call routing to advanced technical support for issues with Lenovo hardware and preloaded software applications. ThinkPlus Priority Support helps reduce the amount of time IT staff spend troubleshooting PC problems because they get instant access to the right level of support on the first call, which can translate into increased PC uptime, greater end user satisfaction and significant support time and cost savings for businesses.
Lenovo has engineered a unique ThinkVantage Toolbox : for ThinkCentre PCs running Windows 7, which comes included in the cost of the PC. This recently introduced combination of PC health, security and support tools helps customers avoid IT costs and lost productivity associated with individual PC usage. For example, the new ThinkVantage Toolbox will notify ThinkCentre A63 users of any PC problems and offers solutions to quickly repair the PC before components fail or data is lost.
The ThinkCentre A63 also includes a variety of ThinkVantage Technologies : , such as Rescue and Recovery to help recover and restore files, and Power Manager : to easily manage and remotely control a PC's energy usage even when it is turned off.
Pricing and Availability
The ThinkCentre A63 desktop starts at $329 and will be available beginning in mid-January.
Last updated: Apr 7, 2020 at 12:00 pm CDT