XFX Perfects the Productivity/ Performance Ratio
The XFX ATI RadeonTM HD 5670 Graphics Card's Got Game - And Much More!
Hong Kong, January 14, 2010 - All gamers were not created equal-until now. XFX is pleased to introduce the XFX ATI Radeon™ 5670 HD Graphics Card, offering the latest technology at a price that is transforming not only how the game is played, but who's playing it.
Designed for power users who want an immersive 3D gaming experience as well as powerful content and entertainment capabilities, the XFX ATI Radeon™ 5670 HD Graphics Card delivers the ultimate work/play punch. Capable of supporting the latest DirectX® 11 games, users enjoy significant gains in gaming potential over DirectX® 10.1. And, with Microsoft® 7 support, users enjoy fast and easy video playback, editing and content transfer. Best of all, this power is packed in an energy efficient single-slot card that's easy to install and requires no external power supply.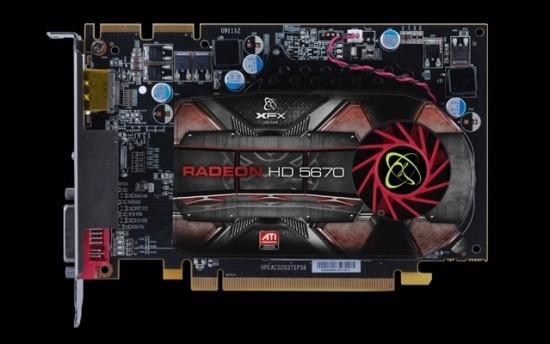 Thanks to DirectX® 11 support, XFX ATI Radeon™ 5670 HD Graphics Card users can literally immerse themselves in a gaming experience that is populated by ultra-realistic characters and unparalleled 3D detail. HDR texture compression helps render exceptional images without requiring an intense graphics memory footprint, thus maintaining a power-efficient card that delivers incredible image quality.
Along with significant performance gains, the XFX ATI Radeon™ 5670 HD graphics card features technologies that maximize productivity. ATI Eyefinity technology enables users to expand across up to three displays for the ultimate in immersive gaming OR the ultimate work platform. Best of all, adding monitors does not affect performance, with most popular games still delivering seamless frame rates at more than 3 frames per second across three monitors.
ATI CrossFireX™ technology dual mode support also enhances gaming performance, as does the card's GDDR5 memory, which delivers twice the bandwidth per pin over GDDR2 memory. Additionally, DirectCompute 11, ATI PowerPlay™ technology and 40 nm process technology all help the card to deliver significant performance gains.
Digital media enthusiasts will enjoy the card's ATI Stream technology, which makes it a snap to edit digital video or create high-quality HD home movies. It can even help convert HD video files up to five times faster than the CPU alone. Additional video enhancing features include Accelerated Video Transcoding, which improves video transcoding performance and HDMI 1.3, which ensures a full Blu-ray and PVR experience. Dolby® TrueHD and DTS-HD Master Audio™ Support generate a fully immersive high-definition audio experience and ATI Avivo™ Technology Enhanced Unified Video Decoder 2 enables users to watch the latest Blu-ray movies or other HD content beyond 1080p and enjoy a richer video playback experience with enhanced Unified Video Decoder 2 (UVD 2) features.
With the XFX ATI Radeon™ 5670 HD Graphics Card, users don't have to choose between performance or productivity-they can enjoy the best of both worlds. And that's what we mean when we say that this card has got game.
About XFX
XFX is a global presence in the world of electronic gaming. With its focus on taking gaming to the extreme, XFX has developed an exciting array of graphics cards and accessories that are designed to maximize the entire entertainment experience. A division of PINE Technologies, XFX operates its own manufacturing facility and maintains an R&D team that features some of the industry's most renowned talents. Learn more about XFX at www.xfxforce.com.
Last updated: Apr 7, 2020 at 12:00 pm CDT