VISION Pro Technology from AMD Gives Businesses the Competitive Advantage of Powerful and Responsive Visual Computing
AMD Expands VISION Pro Business Notebook Offerings with Lenovo
Sydney, Australia: Jan. 14, 2010- AMD today announced VISION Pro Technology, a commercial PC platform brand that delivers a superior visual computing experience to help businesses increase productivity and gain competitive advantage by enabling visually stunning communications, marketing and sales materials. Together with Lenovo, the company unveiled the 13" ThinkPad Edge and ThinkPad X100e, aimed at the ever important SMB and education markets in Australia. The two products are the result of the two company's first collaboration to offer AMD processors on ThinkPad laptops and to be offered on AMD's VISION Pro Technology.
Following on from the September 2009 launch that introduced VISION Technology from AMD, VISION Pro Technology will focus on real-world usage, not just technical specifications. VISION Pro Technology aims to help SMBs, enterprise, government, and education PC users to better understand the benefits and value of AMD platform technology.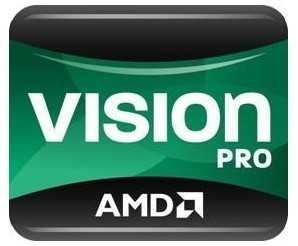 "VISION Pro Technology from AMD is an ideal foundation for the business-class entry ultraportable ThinkPad X100e and our full-featured ThinkPad Edge laptops designed especially for small to medium businesses," said Sam Dusi, vice president, ThinkPad Product Marketing, Lenovo. "These laptops offer features like great visual computing performance, manageability and security that give businesses an edge, and they come at prices customers will find attractive in this tough economic environment."
"At virtually every price point, commercial PCs based on VISION Pro Technology from AMD offer incredible value and the balanced platform performance needed to leverage today's visually oriented business applications," said Nigel Dessau, Chief Marketing Officer of AMD. "With support for the latest in open standards-based security features, as well as the performance headroom needed for standard productivity applications, VISION Pro Technology has been designed to provide businesses with PC systems that generate, propagate and display world-class business materials."
VISION Pro and Graphics for Business
Graphics matter more than ever in business communication and innovative companies are demanding balanced PC platform technology to generate and view rich visual presentations including videos and 3D graphics to communicate winning ideas. Studies show that more than 80 percent of human comprehension is gained visually and that the use of visual aids with oral presentations improves content retention as much as 6.5 times greater than using words alone.1
Furthermore, the increased viewing area provided by multiple monitors helps improve worker productivity by as much as 40 percent.2 Commercial PCs based on VISION Pro Technology from AMD offer out-of-the-box support for multiple monitors, seamless viewing of videos, use of video conferencing software, and the performance necessary to create and view rich presentations with embedded video and 3D graphics.
Industry Support for VISION Pro
"Business customers have told us that they want to use their PCs for business applications, as well as the full set of consumer scenarios in Windows 7," said Mike Nash, corporate vice president of Windows Platform Strategy at Microsoft Corp. "To respond to these needs, Windows 7 Professional and Vision Pro technology from AMD deliver the manageability required by businesses without compromising the performance and functionality end users demand."
Security and Virtualization
Security features supported by VISION Pro Technology include the Trusted Platform Module (TPM), AMD's Enhanced Virus Protection (EVP), and key Windows® 7 Professional features.3 AMD client virtualization technology [AMD Virtualization™ (AMD-V™) technology] provides the full, chip-level optimization needed to support legacy applications under Windows XP Mode.3
Additional Resources
- Get more information on what's in store for AMD at CES.
- For more details on VISION Pro Technology from AMD, click here.
- Find out more about Lenovo and their new ThinkPad Edge and ThinkPad X100e notebooks featuring VISION Pro technology from AMD.
- Learn more about all Desktop platforms and Notebook platforms that feature AMD technology.
- Follow AMD Unprocessed on Twitter, YouTube and Facebook
About AMD
Advanced Micro Devices is an innovative technology company dedicated to collaborating with customers and technology partners to ignite the next generation of computing and graphics solutions at work, home and play. For more information, visit http://www.amd.com.
Last updated: Apr 7, 2020 at 12:00 pm CDT