Compro VideoMate IP70 Secure Your Place Anytime, Anywhere
Day & Night MegaPixel/H.264 Indoor Network Camera
Compro Technology, launch VideoMate IP70, the world's first day/night camera with true infrared(IR) lighting and HD megapixel resolution, targeted at the home / SOHO market.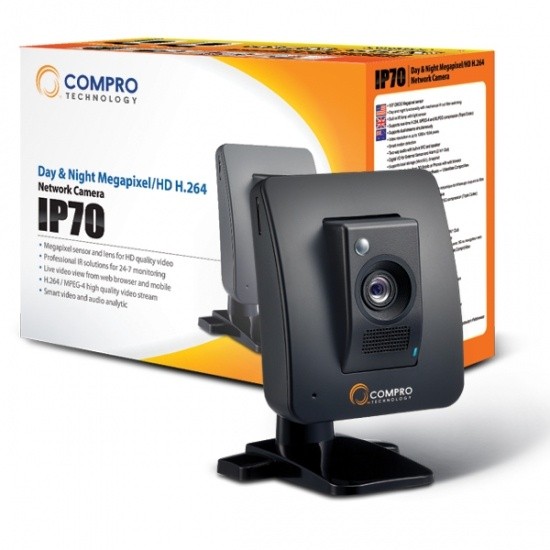 VideoMate IP70 is a high performance H.264 IP camera which delivers high-quality megapixel video and equipped with true day/night function and IR lights. IP70 features a unique cluster of professional class IR LEDs for 24 hours 7 days surveillance under any lighting condition. A light sensor will turn on the array of IR LEDs to illuminate the scene automatically when the lighting condition is too dark for the image sensor and switch off the IR LEDs when the lighting condition turns normal.
Moreover, IP70 bundles a full range of applications to provide an intelligent surveillance total solution - iWizard is a smart installer to turn the complicated network camera installation to a simple and fast process; WebVUer is an intuitive IE based video management software includes all the key features for trouble-free monitoring home surveillance; ComproView is a powerful feature-rich 32 channels professional grade multi-camera video management solution for business surveillance.
In addition, IP70 provides two-way audio support by including build-in microphone and speaker, allowing remote listening of the area via direct voice communication or pre-recorder audio clips; built-in MicroSD slot to support local snapshot storage in MicroSD card; Digital I/O connector for External Sensor and Alarm equipment. For the hard-to-reach places, there is an optional accessory of Compro WL155 USB upgrade module to provide 802.11 b/g/n connectivity. Maybe this category of indoor fixed cameras has been known before, but don't miss to experience the most complete solution and powerful features of this unique IP70 product!
-
Key Features
Last updated: Jul 27, 2022 at 03:47 am CDT