Patriot Announces the Release of Their Latest NAS Device, Valkyrie
Patriot Memory, a global pioneer in high-performance memory, NAND flash and computer technology, today announced the release of their new Valkyrie two-bay network attached storage device targeted for SOHO and 'prosumer' users.
In today's multi-media world, the need to have large storage capacity has quickly changed from being a luxury to being a necessity. Network Attached Storage (NAS) is designed to meet this need, and has become the local storage solution for home networks and small businesses. NAS has become the central digital media and file 'hub' for your entire network. Rather than supporting just one computer, now you can support multiple digital devices within the home as well as share files across the internet.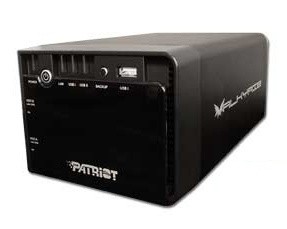 The Patriot Valkyrie Dual Bay NAS is the perfect solution to consolidate your digital content into one device accessible to users across the network. Valkyrie offers large storage capacity (up to 4TB total storage using 2 x SATA HDD), a compact design and a flexible and powerful interface for managing multiple users and access rights making this an ideal storage solution. Valkyrie's Web access feature allows remote users to instantly and securely access all digital files stored on the Valkyrie, making file exchange or retrieval possible via an internet connection anywhere in the world. Multimedia streaming is possible with built-in UPnP and DNLA support and iTunes music server while also offering PC-less downloading via BitTorrent. Equipped with a multitude of features normally found on larger, more expensive NAS devices and an easy to use interface, Valkyrie brings the versatility of a robust network storage device to everyone.
"The addition of Valkyrie to our NAS solutions, with its enhanced functionality and ease of use gives consumers a powerful solution at an affordable price" says Jack Chen, Patriot's Peripheral Product Manager. "Our goal is to bring products to the market that provide versatility, scalability and functionality at a price that consumers feel offer comparable product features to the high end devices, yet are affordable to the everyday user."
Last updated: Apr 7, 2020 at 12:00 pm CDT