Marvell Armada 610 Application Processor, Brings 1080p Video and 3D to Devices
Marvell, a worldwide leader in integrated silicon solutions, today announced another breakthrough in advanced chip design: the world's first "quadruple" core processor for applications utilizing the ARM instruction set. Building on a long and successful history of CPU core development and previous multicore implementations, Marvell's achievement represents a milestone breakthrough for the ARM ecosystem with many positive implications for consumers. Based on the same CPU architecture as the Marvell ARMADA 500 and 600 processor series, Marvell's quadcore implementation can deliver gigahertz-plus processing per core and is designed for customer-specific products such as mass consumer market and high volume gaming applications.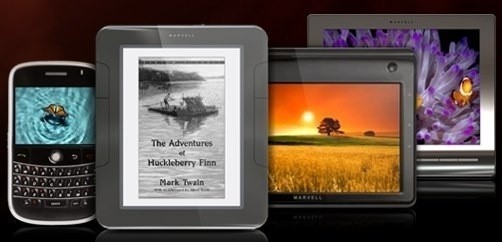 "Introducing our quadcore technology to the world represents a pivotal moment in CPU development for the consumer electronics industry," said Ms. Weili Dai, Marvell's Co-founder and Vice President and General Manager of Marvell Semiconductor, Inc.'s Consumer and Computing Business Unit. "Today's media-rich consumer applications are already pushing the limits. By making quadcore capabilities available to our customers we will enable the newest generation of cutting edge devices that consumers will always demand -- more horsepower, higher performance, better battery life, and more attractive price points than ever before for mass consumer market adoption."
Marvell has a long history of delivering multicore technology to customers for use in a broad variety of applications ranging from pachinko machines, printers, gaming, networking, gateways, all the way up to computing-intensive enterprise applications. This announcement of the first implementation of quadcore technology for the ARM ecosystem further demonstrates Marvell's ability to deliver high performance, flexible technology that meets the silicon requirements of numerous tier-one customers, regardless of the end application.
"With the introduction of the ARMADA line of processors, we see the wide variety of devices that Marvell's application processors can power," said Rob Enderle, Principal Analyst for the Enderle Group. "Before ARMADA, the ARM ecosystem was thought to be limited by performance barriers. Now, with this announcement of its quadcore technology, Marvell is showing the world the ARM ecosystem's true potential while cementing its position among the leaders in advanced CPU development for mass market consumer applications."
Last updated: Jul 27, 2022 at 03:53 am CDT