LaCie Reveals New Server Technology For Small Businesses with Windows Home Server
LaCie demonstrates a new network storage server based on the Microsoft Windows Home Server platform. The product will be shown for the first time at the CES. This server leverages the success of LaCie's award winning 5big Network, which features five user-replaceable drives, Gigabit Ethernet, and data protection support for data integrity. The technology demonstration shows that by combining Microsoft and LaCie technologies on a single platform, small business users can enjoy a seamless interface to automatically back up computers to a single server. The server secures their backup both locally and remotely by automatically copying their critical data to the cloud, using LaCie's Wuala technology.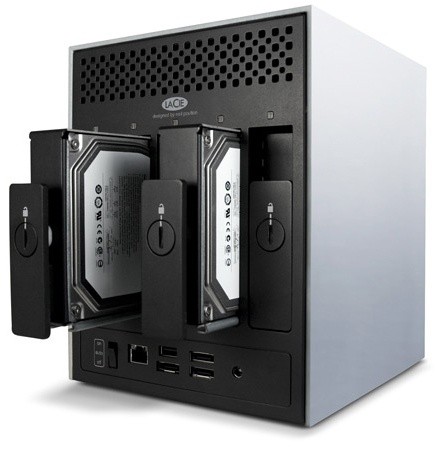 "LaCie's network server offers an exciting design and provides plenty of storage options with terabytes of capacity and the ability to back up data from local computers and to cloud-based services," said Leslie McGuire, Director of Windows Server Marketing at Microsoft. "We're pleased to have LaCie join us as a Windows Home Server partner."
"Our aim with this technology demonstration is to show that by teaming with Microsoft and through our Wuala cloud storage technology, we can provide an enterprise-grade, data protection solution with both local backup and off-site replication in one low-cost, compact system," said Erwan Girard, Solutions Business Unit Manager. "By leveraging the groundbreaking Wuala cloud technology, which ensures the highest speed in data upload and download, our server will provide truly usable cloud-based data backup and restore to accommodate the large amounts of data generated by small businesses."
Additional product details will be available once it is officially announcement in the first quarter of 2010.
Last updated: Apr 7, 2020 at 12:00 pm CDT