Super Talent Announces Volume Shipment of Highly Anticipated USB 3.0 RAIDDrive
Fastest USB 3.0 Flash Drive Breaks the 300MB/sec Barrier
San Jose, California - January 6, 2010 - Super Talent Technology, an inventor of USB 3.0 flash drives, today announced volume shipment of its newly announced USB 3.0 RAIDDrive. The new drive, available in 32GB, 64GB and 128GB capacities, is fully backward compatible with USB 2.0 standard and operates at 10x speeds when used in conjunction with a USB 3.0 port.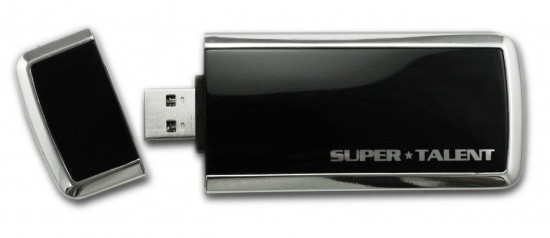 "This product underscores Super Talent's continued leadership in USB drives." said Super Talent COO, C.H. Lee. "We've developed the world's first and fastest USB 3.0 flash drive, by integrating two SSD into a RAID array for maximum throughput." It delivers phenomenal performance and it incorporates our own patented technology, filed world wide and protected under US Patent #7,457,897 etc.

Measuring 95 x 34 x 15.4 mm, the USB 3.0 RAIDDrive is not only the fastest USB 3.0 product out, but it is also the only RAID array that fits in your pocket. Like most USB drives, the USB 3.0 RAIDDrive requires no additional cables or power source; it plugs directly into any USB port.
SuperTalent will be showing live demos of this product at CES in Las Vegas this week. To see a live demo drop by our booth, located in South Hall 4, booth #35632. Aren't going to be at the show, visit our YouTube page and catch the latest videos as the emerge
http://www.youtube.com/gosupertalent
-
Product Images
-
Product Specifications
About Super Talent Technology
Super Talent Technology Corporation based in San Jose, California, designs and manufactures a full range of DDR, DDR2, and DDR3 memory modules and Flash based storage devices for computers and consumer electronics. An ISO 9001 certified company, Super Talent utilizes its state-of-the-art factories and leading-edge components to produce award winning products with outstanding reliability. Super Talent is an active member of the JEDEC and ONFI standards bodies. With over 250 patents, the company was ranked 38th in the 2008 Wall Street Journal's Patent ScorecardTM for the IT industry.
Last updated: Apr 7, 2020 at 12:00 pm CDT