VIA Group Announces Industry's Fastest USB 3.0 to SATA Controller
VIA Technologies, Inc., a leading innovator of power efficient x86 processor platforms, today launched the VIA VL700 USB 3.0-SATA Controller, a highly integrated single chip solution that allows users to connect SATA hard disk drive (HDD), solid state drive (SSD), and optical disc drive (ODD) devices to their PC via new USB 3.0 specification ports.
With data transfer rates of up to 5Gbps, USB 3.0 (also known as SuperSpeed USB) offers ten times the throughput available to USB 2.0 based devices, meaning large amounts of information stored on a SATA device can be effortlessly transferred to a PC in a fraction of the time it would usually take.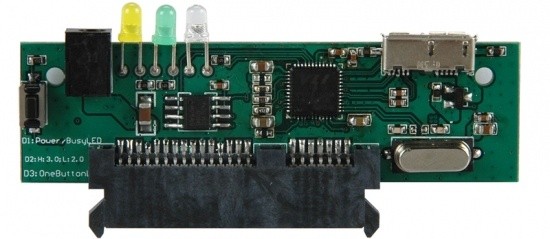 Developed by wholly owned subsidiary company VIA Labs, the VIA VL700 supports both SATA 3 Gbps and 1.5 Gbps data transfer rates and also Native Command Queuing (NCQ), which allows HDDs/SSDs to internally optimize the order in which received read and write commands are executed, thereby increasing performance. Additionally, data transfer to and from SATA-based DVD and Blu-ray Disc players is supported.
"As the storage capacity of hard drives increases, the need for better data transfer technology arises," said Richard Brown, Vice President of Marketing, VIA Technologies, Inc. "SuperSpeed USB offers a big leap forward in transfer speeds and the VIA VL700 gives PC users a way to apply this performance advantage to their existing SATA storage devices."
Attendees at the annual Lunch@Piero's media event, to be held during CES in Las Vegas on January 7th and 8th can view a demo of the new VIA VL700 USB 3.0-SATA Controller. More information on the Lunch@Piero's event can be found on the VIA website
here
.
Last updated: Apr 7, 2020 at 12:00 pm CDT