VIA Announces the EPIA-P820 Pico-ITX Board with 64-bit Nano Processor
VIA Technologies, Inc, a leading innovator of power efficient x86 processor platforms, today announced the VIA EPIA-P820, the first Pico-ITX form factor board to feature the high performance, 64-bit VIA Nano processor, bringing industry-leading digital multimedia performance and virtualization capabilities to the smallest of spaces with the VIA AMOS-3001 chassis system.
The choice of VIA Nano processor means that the VIA EPIA-P820 offers a range of advantages over competitor offerings, including full 64-bit software support, a high-performance superscalar architecture and full support of the latest virtualization technologies for next generation server and virtual machine applications. Paired with the VIA VX855 media system processor, the VIA EPIA-P820 is well equipped to handle smooth playback of the most demanding codecs at resolutions up to 1080p.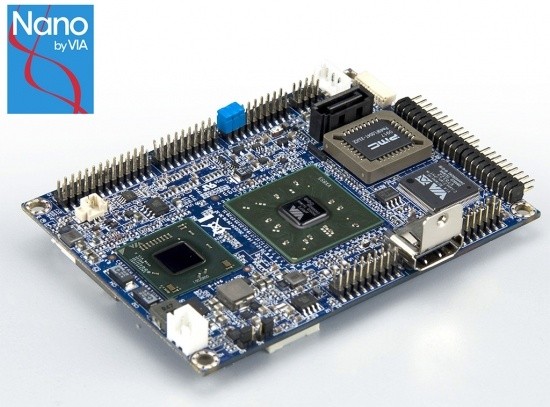 The VIA AMOS-3001 is an entirely fanless and thoroughly robust chassis system that is specially designed to work with the VIA EPIA-P820. Leveraging the digital prowess of the VIA EPIA-P820, the VIA AMOS-3001 offers a powerful, rugged and HD-ready industrial-class PC that combines all the benefits of high performance 64-bit computing and ruthless hardware acceleration of HD media across the latest display connectivity standards including native HDMI support.
"Never before have developers had the opportunity to harness full 64-bit, superscalar processing in spaces as small as the palm of your hand," said Daniel Wu, Vice President, VIA Embedded Platform Division, VIA Technologies, Inc. "The VIA EPIA-P820 combines with the VIA AMOS-3001 to create a complete embedded system that takes the latest features and digital media standards to the very smallest of places."
The VIA EPIA-P820: Small yet Powerful
Measuring a mere 10cm x 7.2cm the ultra compact VIA EPIA-P820 supports 2GB of DDR2 system memory and leverages a power-efficient, high performance 1.2GHz U2500 VIA Nano processor to provide system developers with the most powerful Pico-ITX platform ever.
The VIA EPIA-P820 features the highly integrated, all-in-one VIA VX855 Media System Processor, specially designed to provide flawless hardware acceleration for the latest HD video codecs including H.264, WMV, VC1 and MPEG 2/4 at high bitrates and display resolutions of up to 1080p with very low CPU utilization. The VIA Chrome9 HCM 3D integrated graphics core boasts full DirectX 9.0 support and a 128-bit 2D engine with hardware rotation capability.
The VIA EPIA-P820 uses a specially designed I/O add-on-board which supplements the native HDMI port to add a VGA port, a Gigabit LAN port and two USB 2.0 ports. The VIA Vinyl HD audio codec provides 6 channel, DTS capable audio with S/PDIF support. Storage is provided in the shape of an onboard 44-pin IDE connector and one S-ATA port. On board pin headers provide support for an additional 4 x USB 2.0 ports, an LPC connector, SMBus connector, PS/2 support, audio jacks, LVDS, 4 pairs of DIO and two UART ports.
For more information, visit
this page
.
Last updated: Apr 7, 2020 at 12:00 pm CDT