Super Talent Launches 8GB Dual Channel and 12GB Triple Channel DDR3 Kits
New DDR3-1600 Kits Are Based on 4GB DIMMs Built with 256Mx8 Chips
CES Convention, Las Vegas, Nevada - January 6, 2010 - Super Talent Technology, a leading manufacturer of Flash storage solutions and DRAM memory modules, today announced two new hand tested 1600 MHz 1.65V DDR3 kits based on high density 256Mx8 DRAM ICs. WP160UX8G9 is a dual channel 8GB (2x 4GB) kit designed for high performance P55 based systems, and WB160T12G9 is a triple channel 12GB (3x 4GB) kit designed for exceptional performance in X58 based systems. Both new kits are clad in Super Talent's Chrome Series heatsinks for optimal thermal efficiency.

"These new high density kits will deliver refreshing performance gains in 64-bit desktop environments. We select the fastest available RAMs to build these kits, and we cherry pick the fastest modules to support high speeds", stated Super Talent Director of Marketing, Joe James. Both these kits will be available this week through Super Talent resellers including SuperBiiz.com.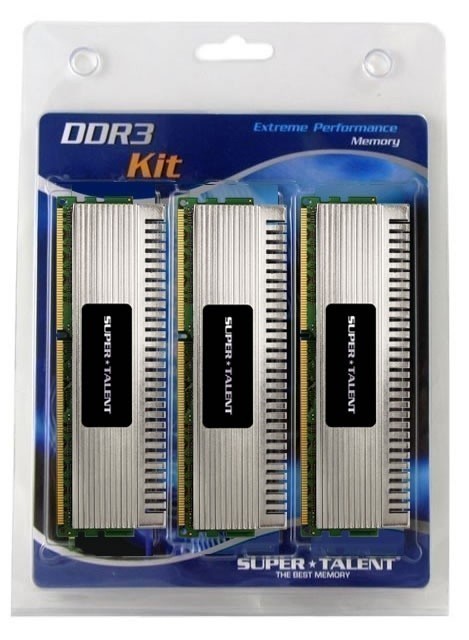 -
Product Images
-
Product Specifications
About Super Talent Technology
Super Talent Technology Corporation based in San Jose, California, designs and manufactures a full range of DDR, DDR2, and DDR3 memory modules and Flash based storage devices for computers and consumer electronics. An ISO 9001 certified company, Super Talent utilizes its state-of-the-art factories and leading-edge components to produce award winning products with outstanding reliability. Super Talent is an active member of the JEDEC and ONFI standards bodies. With over 250 patents, the company was ranked 38th in the 2008 Wall Street Journal's Patent ScorecardTM for the IT industry.
Last updated: Apr 7, 2020 at 12:00 pm CDT