ASUS Unveils Class Leading Motherboards Based on the New Intel H57/H55 Chipsets
ASUS today announces the launch of a new motherboard series based on the Intel H57 and H55 chipsets. The ASUS P7H57D/P7H55 Series supports the new Intel Core i7, Core i5, Core i3, and Pentium processors with feature laden ATX and micro-ATX models to provide the best value and performance on the new LGA1156 platform. Featuring exclusive GPU Boost technology, the series delivers a rich visual experience and smooth video performance with Intel's latest HD capable integrated graphics capable processors. Built with Xtreme Design features, the P7H57D/P7H55 Series delivers optimized performance while being very energy-efficient. The ATX based P7H57D-V EVO also supports next-generation USB 3.0 and SATA 6 Gb/s technology for faster data throughput and better storage performance.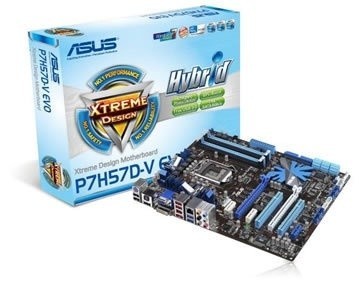 Powerful Graphics Acceleration with GPU Boost Technology
The P7H57D/P7H55 Series features GPU Boost technology which enables users to adjust the GPU frequency and enhance system performance quickly and easily. GPU Boost overclocking options-are easily accessed through an intuitive user interface in our Exclusive Turbo V EVO utility. Additionally, GPU Boost helps lower energy consumption through the use of the ASUS Energy Processing Unit (EPU) engine-a comprehensive power saving system. The EPU detects the onboard HD graphics processor load and intelligently moderates power output in response to varying requirements.
Fastest Data Throughput with True USB 3.0 and SATA 6G Technology
Users can expect ultra-fast data transfers with the latest bandwidth technology support. A Unique PCIe X4 Bridge Chip delivers true SATA 6G and USB 3.0 performance that maximizes the transfer rates of SATA 6Gb/s hard drives and delivers data transfer speeds up to ten times that of current USB 2.0 standards. Such significant improvements enable users to transfer a 25GB HD movie file in 70 seconds or save a 4MB song in less than a second. ASUS' unique expansion chip also affords the ability to ensure SLI or CrossFireX configurations without affecting SATA 6G or USB 3.0 performance on selected models.
Optimized Performance with Xtreme Design Hybrid Features
With Xtreme Design innovations such as Hybrid Processors, the P7H57D-V EVO/P7H55-M Series delivers intuitive and real-time overclocking as well as automatic performance tuning. Users can access our award winning Turbo Profile option via the bios for quick and easy overclocks that are safe and reliable. For even higher levels or performance users can access our Turbo V EVO application and use the Auto Tuning feature to quickly overclock the system based on three presets. Users can also employ the quick and easy Auto Tuning process that will automatically maximize the platform overclock while retaining full stability in your applications and games.
Availability
The ASUS P7H57D-V EVO, P7H55D-M EVO, and P7H55-M PRO motherboards will be available at leading online retailers starting on January 7th 2010.
Last updated: Apr 7, 2020 at 12:00 pm CDT