QNAP Raises Bar With The First Atom Processor D510 VMware, iSCSI NAS Servers
QNAP Systems, Inc., a leading manufacturer of world class NAS servers, NVR Video Surveillance Systems, and Network-based Video Players today unveiled its new series of ultra-high performance Turbo NAS servers TS-259 Pro, TS-459 Pro, TS-659 Pro and TS-859 Pro (a QNAP exclusive) that have been certified as compatible with VMware's vSphere4 (ESX 4.0) virtualization platform, ideal for departmental file sharing, storage, and advanced server applications in the office environment.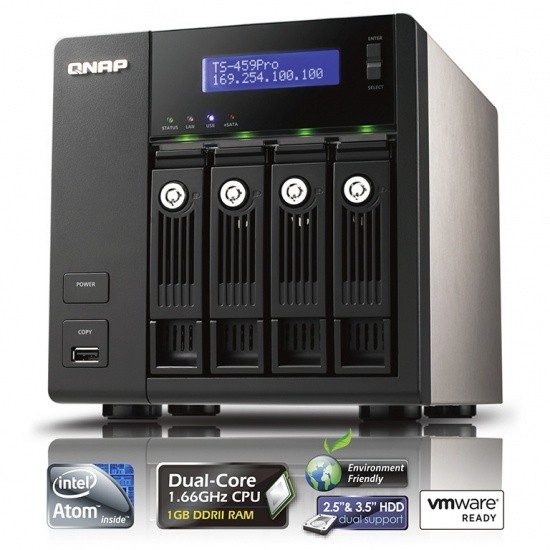 VMware's vSphere is the industry's first cloud operating system that offers a way to reduce IT costs and increase responsiveness. Shared networked storage is an essential component of a Cloud Computing infrastructure. The new Turbo NAS series incorporates the Intel Atom D-510 dual-core processor, which delivers exceptional performance and maintains high reliability for multiple concurrent tasks and intensive data transfer with very low power consumption. Businesses of all sizes are able to enjoy the interoperability between VMware virtual machines and QNAP high performance, low power consumption certified storage, take the advantages of VMware Cloud Computing environments.
"QNAP's new Business Series Turbo NAS servers really mean business" Richard Lee, President of QNAP Systems, Inc. "This new series provides businesses of all sizes a solid foundation for their network storage needs and a host of business-critical applications." Mr. Lee added.
"Businesses of all sizes require feature-rich NAS systems with scalability and interoperability to effectively manage data across the network," said Seth Bobroff, General Manager, Intel Data Center Group - Storage. "The Intel® Atom™ processor D510 provides a flexible architecture for QNAP to deliver a series of NAS systems that optimize performance and energy efficiency in this class of systems."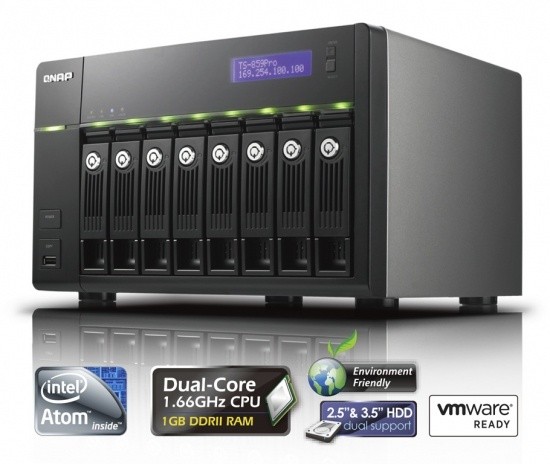 The new Turbo NAS series comes with new version 3.2 of the QNAP NAS management software which supports lots of class-leading new features such as iSCSI service; supports SPC-3 Persistent Reservation for clustering in VMware and Windows Server 2008. MPIO and MC/S are also supported. As well as new DFS support (Folder Aggregation), import of user-list, and customizable Daylight Saving Time for easier administration, the next-generation Internet Protocol, IPv6, has been incorporated for future networking evolution. QNAP's Web File Manager 2 features an entirely redesigned user interface and functionality for improved file sharing and management. WebDAV is also available for users to collaboratively share, access, and edit files over HTTP and HTTPS. Additionally, Apple's Time Machine backup is now supported.
Availability
The new Business Series Turbo NAS servers will be available in January through popular global commercial distributors, resellers, and retailers.
Last updated: Apr 7, 2020 at 12:00 pm CDT