ASUS Motherboards: First to Support Upcoming 32nm CPUs
BIOS Upgrade of X58-based Motherboards Enables Compatibility with Next-generation CPUs
Sydney, Australia, 11 December 2009 - ASUS today announced that it is ready to support the upcoming 32nm processor based on the LGA1366 socket and the Intel® X58 chipset. This next-generation 32nm infrastructure, supporting six multi-cores, will deliver maximum performance to ASUS X58-based motherboards via a comprehensive BIOS upgrade. Chie-Wei Lin, General Manager of ASUS Motherboard Business said, "This new processor architecture accommodates up to six cores and significantly improves CPU performance. By enabling the architecture in our award-winning X58-based motherboards, we can deliver one of the fastest personal computing platforms in history and we are very excited about it."
Advanced CPU Performance and Enhanced Graphics Processing
ASUS's entire range of X58-based motherboards is ready for the new 32nm processor. For maximum CPU performance and advanced graphics processing enabled by the six cores, users simply need to update the BIOS of their existing X58-based motherboards.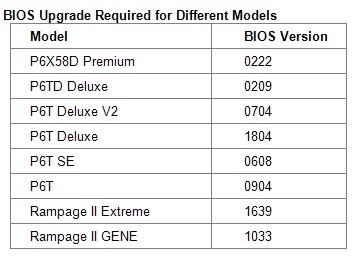 About ASUS
ASUS is a leading company in the new digital era, with an extensive product portfolio that includes notebooks, netbooks, motherboards, graphics cards, displays, optical drives, desktop PCs, servers, wireless solutions, mobile phones and networking devices. Driven by innovation and committed to quality, ASUS designs and manufactures products that perfectly meet the needs of today's digital home, office and person. ASUS won 3,056 awards in 2008, and is widely credited with revolutionizing the PC industry with the Eee PC™. With a global staff of more than ten thousand and a world-class R&D design team, the company's revenue for 2008 was 8.1 billion U.S. dollars. ASUS ranks among BusinessWeek's InfoTech 100, and has been on the listing for 12 consecutive years.
Last updated: Apr 7, 2020 at 12:00 pm CDT