MSI and SteelSeries Announce Partnership for the Preorder of Big Bang-Trinergy Mainboard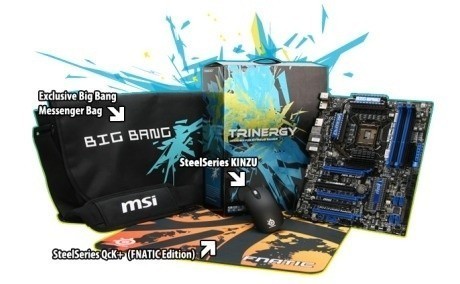 [Taipei - Taiwan] MSI, a leading high-performance mainboard and graphics card producer, today announced preorder details for its latest gaming mainboard, Big Bang-Trinergy. Starting now, those who pre-order Big Bang-Trinergy from participating retailers will get a limited 8-year warranty and exclusive Big Bang messenger bag. In addition, SteelSeries KINZU and QcK+ gaming gears will be offered to those who pre-order, cooperating with the world's famous gaming company, SteelSeries. Gamers will experience the ultimate gaming machine when heading into battle.
"Big Bang is the state-of-the-art gaming series from MSI through long-standing development. We feel more than pleased to partner with such a professional gaming company, SteelSeries to introduce it to gaming community" said Jason Lee, MSI's Mainboard and Graphics Card Marketing Director. "We believe our close collaboration will open the door of delivering high-quality gaming experience to users."
"We're excited to team up with MSI and offer gamers the opportunity to combine one of our newest gaming mice, SteelSeries Kinzu, and the award-winning QcK+ with the new Big Bang-Trinergy," said Kim Rom, SteelSeries Chief Marketing Officer. "SteelSeries partners with brands that share the same values when it comes to gaming and gear: develop products that meet the needs of professionals and at the end of the day, Winning is Everything."
For more event information:
http://event.msi.com/mb/bigbang/preorder/
About Big Bang-Trinergy
The latest Big Bang-Trinergy mainboard features the powerful NVIDIA nForce 200 chip, designed to support triple graphics cards within a single system. Featuring cutting-edge 100% hi-c Cap, it maximizes system performance and stability. It is also equipped with several MSI exclusive performance boost functions like OC Genie and OC Dashboard to give extreme gamers on-the-fly overclocking to optimize FPS. It is set to hit store shelves in early Dec.
For more product information:
http://event.msi.com/mb/bigbang/
Product Highlight:

Last updated: Apr 7, 2020 at 12:00 pm CDT