Active Media Products Partners with Piano Prodigy Ken Elkinson on new USB Drive
Waterproof Pivot Drive Includes a Six-Pack of Original Piano Solos
Fremont, California - November 30, 2009 - Active Media Products, manufacturer of SSDs and innovative USB drives, today announced a new Ken Elkinson USB flash drive that includes six original Ken Elkinson piano solos in MP3 format. The tiny pivot style drive features a hologram of New York's greatest icon - the Statue of Liberty - on its front, tying into Ken's roots in New York City.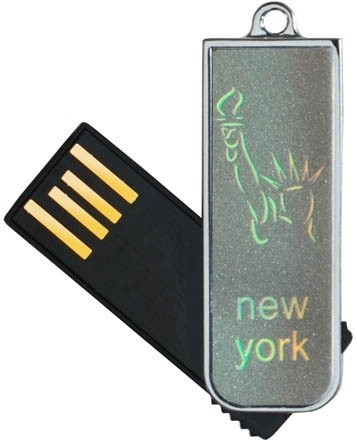 The Ken Elkinson USB drive is a tiny general purpose mobile storage device that comes preloaded with a six pack of original Ken Elkinson compositions in MP3 format. The drive itself is waterproof, supports up to 200X transfer speeds. The folding drive is offered in 2GB, 4GB, 8GB and 16GB capacities. "I'm thrilled to be partnering with AMP on this product," stated Ken Elkinson. "These six songs are an excellent cross-section of my music that I picked myself."
These pico sized drives measure only 1.6 x 0.6 x 0.2 inches and are barely noticeable on a keychain. Ken Elkinson USB drives are available today through Amazon at prices starting at $9.95.
-
Product Specifications
-
Product Images
About Ken Elkinson
Recognized as a piano prodigy at an early age, Ken Elkinson is now hailed as one of the greats. Born August 28, 1972 in Cedar Grove, New Jersey, Ken has always considered the greater New York area his home. After studying classical music at Muhlenburg College and playing in several Atlanta bars and restaurants, he moved to New York City in 1997 to further his career and exposure. Since then Ken has recorded seven CDs of original piano solos. Ken's music has received airplay on hundreds of radio stations, websites, satellite music and in-flight audio programs spanning the globe, and has been featured internationally in several documentaries and commercials. His music has also received accolades from music critics and press worldwide. Ken is now working on original film scores, dance remixes, electronic and vocal tracks.
About Active Media Products
Based in the heart of Silicon Valley, Active Media Products LLC is dedicated to developing creative new media products that improve performance and enhance the user's experience. Our focus on innovative product development enables us to bring new technology to market a step ahead of the competition. AMP is a leader in netbook SSD upgrades and manufactures the Obama and the endangered species line of USB drives.
Last updated: Apr 7, 2020 at 12:00 pm CDT