Fujitsu Underscores Style and Mobility with the new LifeBook P3110
Fujitsu Underscores Style and Mobility with the new LifeBook P3110
Marrying stunning design with the latest technology, Fujitsu presents a new addition to the Fujitsu LifeBook P Series - Fujitsu LifeBook P3110, delivering ultimate mobility in an 11.6-inch petite form factor at an impressive 1.6kg. Coupled with the latest Windows® 7 operating system, users will be greeted with new experiences that redefine performance and mobility.
Sydney Australia, 25 November, 2009 - Fujitsu announces the release of a new member to its Fujitsu P Series - the Fujitsu LifeBook P3110 - to further manifest its promise of delivering exquisite style with advanced and user-friendly technologies. From the energy-saving ECO button to the DVD Sharing application that enables the sharing of optical drive over a wireless connection and colour matching accessories and polished swanky exterior, both laptops make perfect accompaniments for modern, on-the-go users. Spotting similar size as a mini-notebook, The Intel® powered LifeBook P3110 offers a full-size keyboard and provide faster processing capabilities that accord superior multi-tasking ability, all at a value-for-money price tag.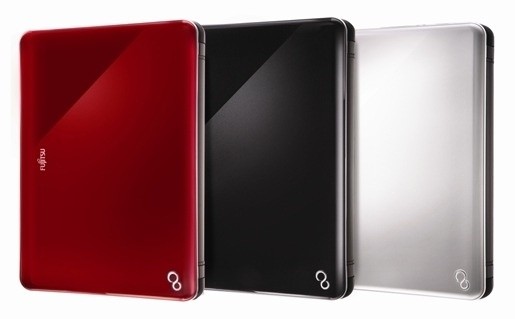 "Fujitsu withholds our promise to deliver bona fide mobility and convenience with the latest technology, while persevering with our insistence on aesthetically pleasing and stylish designs without compromising on quality," commented Mr Ivan Chan, Country Director, Fujitsu PC Australia.
Strongly committed to give consumers the freedom of choice on products that best suit their needs, Fujitsu has equipped the LifeBook P3110 with the latest Intel® Pentium® processor SU4100 (1.30GHz, 800MHz, 2MB L2 Cache).
Showcased in captivating hues, the LifeBook P3110 is available in Glossy Black, Glossy Silver and Glossy Ruby Red. These charming colours endow this notebook with a premium yet snazzy feel, for standing out effortlessly in a corporate jungle or a social playground setting. The silver lining along the edge together with the signature "Infinity" logo adds that touch of class and elegance, completing the proposition to emerge as gadgets for anyone with a taste for sophistication.
The LifeBook P3110's 1.6kg diminutive form and lightweight chassis is a delight to bring around measuring slightly over an inch in thickness thus making it small and slim enough to be slid into a handbag, be it to work or out shopping.
The Fujitsu LifeBook P3110 is also designed for superior mobility on-the-go with an impressive 6.7 hours battery life. Just by a single touch on the ECO button, you can instantaneously activate the power-saving feature and extend the battery life to 7.2 hours. These precious hours may be just what you need to continue to surf the Internet or play your favourite song list while travelling.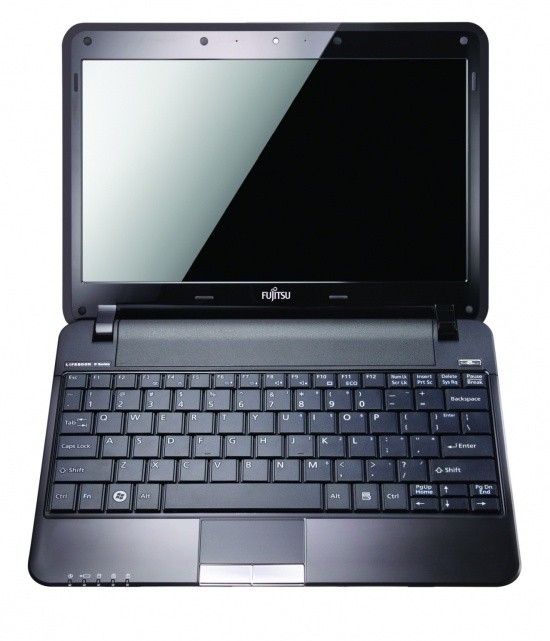 Even with a petite and slim design, the LifeBook P3110 comes with a full size keyboard for the additional typing comfort. Furthermore, it is also spill-resistant which features a tray below the typing keys to prevent the occasional spill from going through the keyboard. This thoughtful design protects against any accidental spills with a simple tilt and a quick wipe.
Knowing how having an optical drive can be a hassle with the added weight, the LifeBook P3110 features the DVD Sharing application that allows the ease of sharing of optical disk drive with other PCs via a wireless connection. You can simply use the optical drive from your primary PC or notebook with the P3110, giving you the option of truly travelling light.
With simple finger gestures like the Vertical Scrolling Function, Photo Rotation, Easy Zoom-in/Out on the multi-touch touch pads, users can surf the Internet or view photos with new levels of ease and without having to rely on an external mouse!
This notebook aptly caters to communication on-the-fly with the built-in 1.3 Mega Pixels camera with dual built-in stereo speakers and Bluetooth v2.1 for fuss-free file transfers. Thereafter, view photos and video clips on the 11.6-inch SuperFine WXGA back-light LED with 1366 by 768 pixels screen, supported by Integrated Intel® Graphics Media Accelerator, promising you a plush and stunning display of graphics.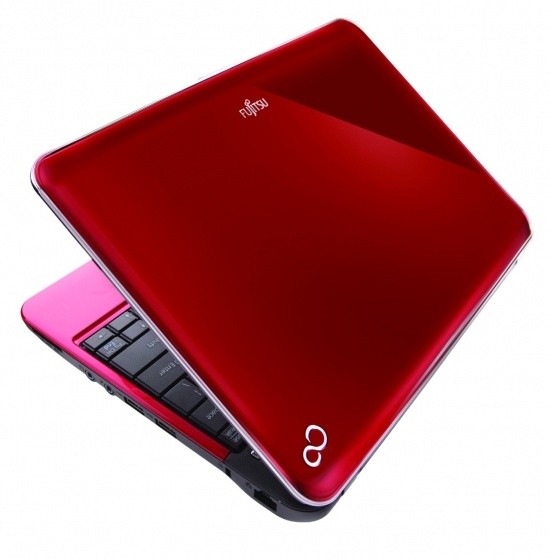 Complementing the chic design of the LifeBook P3110 is a set of matching Fujitsu Wireless Mouse, Portable Stereo Speakers and the External Super Multi Writer Optical Drive available in a whole gamut of colours.
Fujitsu remains firmly committed to the promotion of a cleaner environment and complies with the European Union's Restriction of Hazardous Substances directive (RoHS) across its entire range of products. In addition, Fujitsu has established a set of commitments that goes beyond RoHS requirements, thus allowing it to stay keenly focused on its customers' health and well-being as well as to embrace a healthier environment for all. By adopting a green factory concept and being committed to the cause of energy-efficient computing, Fujitsu also fights to sustain the Earth as a sponsor and a member of the Climate Savers Computing Initiative.
Product Summary
Vendor: Fujitsu PC Australia
Model: LifeBook P3110
RRP: A$1,099
Website: http://au.fujitsu.com/pc
Customer Care Hotline: 1800 288 283
Distributors: Bluechip Infotech and Multimedia Technology
Availability: Now
About Fujitsu
Fujitsu is a leading provider of IT-based business solutions for the global marketplace. With approximately 175,000 employees supporting customers in 70 countries, Fujitsu combines a worldwide corps of systems and services experts with highly reliable computing and communications products and advanced microelectronics to deliver added value to customers. Headquartered in Tokyo, Fujitsu Limited (TSE:6702) reported consolidated revenues of 4.6 trillion yen (US$47 billion) for the fiscal year ended March 31, 2009. For more information, please see: www.fujitsu.com.
Last updated: Apr 7, 2020 at 12:00 pm CDT
PRICING: You can find products similar to this one for sale below.

United States: Find other tech and computer products like this over at Amazon.com

United Kingdom: Find other tech and computer products like this over at Amazon.co.uk

Australia: Find other tech and computer products like this over at Amazon.com.au

Canada: Find other tech and computer products like this over at Amazon.ca

Deutschland: Finde andere Technik- und Computerprodukte wie dieses auf Amazon.de
Related Tags