Accelero TWIN TURBO PRO
Multi-Compatible Cooling Weapon for High-End Graphic Cards
(Pfäffikon/Switzerland, 16 November 2009) The Swiss low noise cooling solution provider ARCTIC COOLING today announced the launch of the Accelero TWIN TURBO PRO. This dual-fan cooler is designed for fitting ATI and nVIDIA graphic cards, offering a truly cool and quiet solution for most enthusiasts.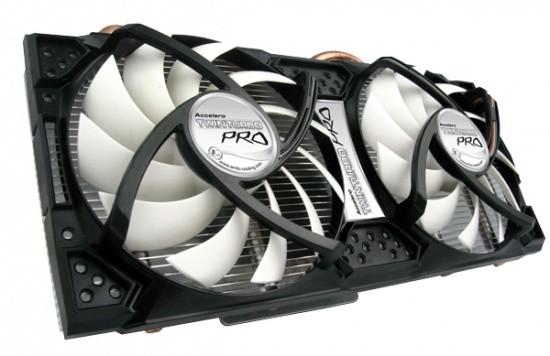 Cooled by precise engineering
This superior cooler is the upgraded version of the reputable Accelero TWIN TURBO. Instead of using 80mm fans, the Accelero TWIN TURBO PRO features two 92mm PWM fans for more advanced heat dissipation. The unconventional 4-heatpipe architecture together with 35 fins achieve up to 120 watts cooling capacity. Also with a layer of the ARCTIC MX-2 thermal compound on the base, the Accelero TWIN TURBO PRO guarantees instant and efficient cooling at all time.
Whisper quiet
Using bigger fans does not mean the noise level will increase. The new fan blades of the Accelero TWIN TURBO PRO are designed for improving the laminar airflow. This new architecture reduces noise level to minimal, achieving a nearly
inaudible operation - only 0.3 sone at full speed, even quieter than the Accelero TWIN TURBO.
ATI and nVIDIA compatible
Its flexible mounting mechanism is designed with two sets of screw holes - 53mm and 43mm which are suitable for a wide range of ATI and nVIDIA graphic cards. From ATI Radeon HD 4890 to nVIDIA GeForce 6600, the Accelero TWIN TURBO PRO is the best choice for most overclockers worldwide to unleash their graphic card potential!
A cooling solution trusted by industry leaders
VGA card manufacturers such as Inno3D, PowerColor / Vertex3D, ELSA and Axle have opted for this 'turbo' to boost the graphic performance of their products - so why don't you get one for yourself?
Media endorsed
The Accelero TWIN TURBO PRO won the "Top Product" award and mark 1.54 (very good) from a reputable German PC magazine PC Games Hardware. "ARCTIC COOLING's Accelero TWIN TURBO PRO offers excellent cooling performance at a very low noise level", the magazine concluded.
The Accelero TWIN TURBO PRO offers a 6-year limited warranty. It will be available in December 2009. The MSRP is US$49.90 and 34.90 € (excl. VAT).
Compatibility
ATI Radeon HD 5870, 4890, 4870, 4850, 4830, 3870, 3850, 2600, 2400, X1950, X1900, X1800, X1650, X1600, X1550, X1300 series
nVIDIA GeForce GT240, GTS250, 9800GTX+, 9800GTX, 9800GT, 9600GT, 8800GTS(G92), 8800GT, 8600, 8500, 8400, 7950GT, 7900, 7800, 7600, 7300, 6800, 6600 series

About ARCTIC COOLING
ARCTIC COOLING Switzerland AG is the trusted leader in IT hardware design, specialized in providing efficient and quiet thermal cooling solutions for laptops and PCs. Its core product categories include CPU and VGA coolers, case fans, PC cases and PSUs. For further expansion, the Company has extended its product line to various electric and electronic products such as alkaline and rechargeable batteries, battery and USB chargers. Headquartered in Pfäffikon, Switzerland, ARCTIC COOLING operates international offices in Hong Kong and the US providing local shipping, customer service and sales support.
Last updated: Apr 7, 2020 at 12:00 pm CDT