Dell Launches World's Fastest Office Color Laser Printer
Printers to Help Customers Boost Productivity & Lower TCO
Date: 11/10/2009
Round Rock, Texas
Dell today announced three new commercial workgroup printers to help businesses of all sizes increase productivity and lower their total cost of printing. Printers available today in the United States include the
Dell 5130cdn
, the worlds fastest single function letter-size office color laser printer, the
Dell 7130cdn
, Dell's first LED color printer with tabloid-size printing capability; and the
Dell 3330dn
, a single-function monochrome laser printer for high performance black and white printing. These new printers will be launched and available in Europe and the Middle East on Nov. 24.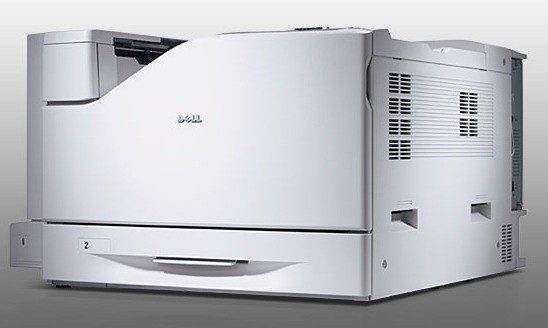 The Dell 5130cdn can print up to 47 single-sided and up to 37 double-sided letter pages per minute (ppm) in both mono and color (actual print speeds will vary with use), making it the world's fastest letter size single-function office color laser printer. The 5130cdn also premiers ColorbyDell, a total print quality solution that delivers excellent color saturation and image sharpness and outstanding print quality. This is enabled through a combination of a powerful new image enhancement algorithm, advanced toner technology and improvements in print engine design. T he Dell 5130cdn is also designed to bring significant energy and cost savings by using a new toner formulation that fuses at a lower temperature, enabling a remarkable Cost Per Page (CPP) of 1.04c for black and white and 7.71c for color print outs.
To help companies reign in the costs of their color printing, Dell also announced the availability of Dell ColorTrack Pro-a built in remote administration tool for IT administrators to centrally monitor and control access to color printing on the Dell 5130cdn. Designed for workgroup environments, Dell ColorTrack Pro manages user access at the server level, to easily control printing and toner costs.
"With a school district as large as ours, it's important that we provide students, faculty and staff access to quality technology," said Timothy McNeese, Information Technology Director of Williamson County Schools in Franklin, Tennessee. "After installing the new Dell 5130cdn printers, we noticed a big difference in the quality and speed of the printouts. The great value and high production rate helps our schools run smoothly and collaboratively," he added.
The Dell 7130cdn is Dell's first LED-based color printer with the ability to print up to tabloid-size, high quality Pantone® approved color prints, for accurate color reproduction. With its ability to bring professional quality color printing in-house with low cost and outstanding printing options, the Dell 7130cdn includes a rich feature set, including numerous paper handling options, a powerful processor and robust memory. This allows the printer to print the first page (First Print Out Time) as quickly as 6.5 seconds in both mono and color. The Dell 7130cdn is available today in the US from $2,799 including one year Next Business Day (NBD) Onsite Service after Remote Diagnosis[ii].
"Dell's new commercial printers add to a compelling portfolio of business color and mono printers for organizations of all sizes," said Keith Kmetz, Vice President of Hardcopy Peripherals Solutions and Services at IDC. "The Dell 5130cdn revolutionizes speed and usability. And its user-friendly appeal makes it attractive to organizations looking for high quality color output at a low total cost of ownership."
On the black and white printing front, Dell announced the Dell 3330dn, a single-function black and white performance printer that can print up to 40 letter pages per minute (ppm) (actual print speed will vary with use), with a monthly duty cycle up to 80,000 pages. Built for high performance printing needs, the Dell 3330dn packs work-horse reliability, and has paper drawer and memory expansion options that grow with increasing business demands. The Dell 3330dn is currently available from today in the US from $599 with 1 year Advanced Exchange Service[iii].
"Dell has always focused on efficiency, reducing costs and increasing productivity for businesses of all sizes, and today we have extended that same winning formula to the printing world," said Mike Arterbury, Global Director Commercial Software & Peripherals at Dell Inc . "Our portfolio of printers provides customers with valuable and affordable choices and low cost of printing, saving them time - and real money."
"Dell's complete lineup of laser printers provide customers with outstanding value, world class reliability and ease of use to help them achieve more with less, with minimum downtime and complexity," said C. K. Lim, General Manager of Dell's Global Imaging Business.
Dell printers are available direct from Dell and from Dell's more than 50,000 partners worldwide.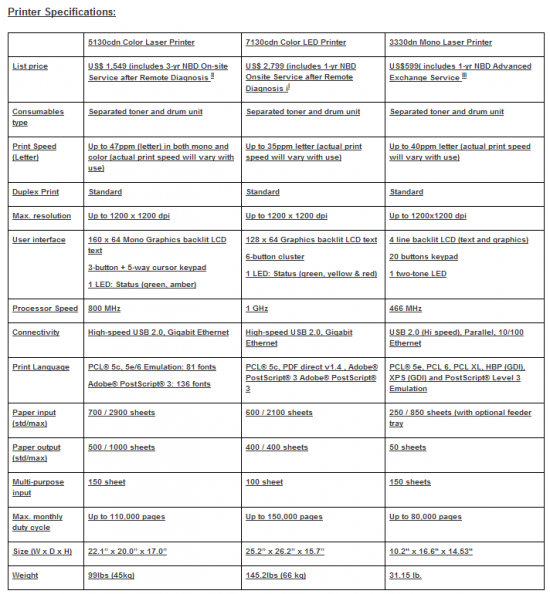 About Dell
Dell Inc. (NASDAQ: DELL) listens to customers and delivers innovative technology and services they need and value. Dell printers are available direct from Dell and from Dell's more than 50,000 partners worldwide. For more information, visit www.dell.com
Last updated: Apr 7, 2020 at 12:00 pm CDT