WD Introduces New My Book Elite External Hard Drives with Customizable E-Label
WD® Introduces New My Book® Elite™ External Hard Drives with Customizable E-Label
E-Label Smart Display Makes Drives Personal
Sydney, Australia - Nov. 10, 2009 - WD®, the world's leader in external storage solutions, today introduced its new My Book® Elite™ desktop external drives featuring a customizable e-label that's always visible, even when the drive is unplugged, making it easy to know what's on the drive and how much space is left. The new My Book Elite also features automatic and continuous backup with WD SmartWare™ software and 256-bit hardware-based encryption. Available now at select retailers and shopwd.com, the new My Book Elite drives are offered in capacities of 1 TB, 1.5 TB and 2 TB.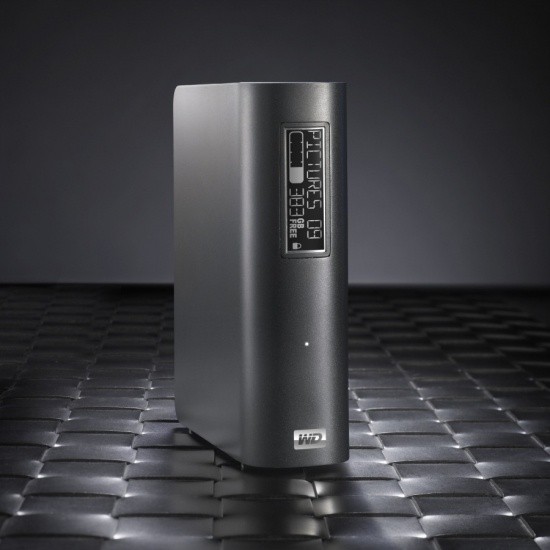 The e-label smart display on the spine of the My Book drives can be changed easily and as often as desired. It utilizes e-paper technology which reads like ink on paper. With the included WD SmartWare software, users can easily create a label to name their drive or remind themselves of its contents. The e-label also shows available capacity and whether the drive is locked via WD SmartWare software's powerful password protection and hardware-based encryption. Utilizing e-paper technology, the information on the display remains clearly visible, even when the drive is unplugged, and the customized label can be changed easily as often as desired.
According to research firm Parks Associates, the average U.S. broadband household currently has over 120 GB of digital media and files which is projected to grow to over 1 TB of data by 2013. Many consumers store this content on multiple external drives which often makes it difficult to know what or whose content is on which drive. During the development process, WD researchers visited with consumers and frequently noted a variety of ad hoc solutions to the "what's on the drive?" or the "whose drive is this?" problems, ranging from hand-written notes to machine printed sticky labels. The e-label smart display was conceived as an elegant and practical solution to address this consumer need.
The new My Book Elite drives come with integrated WD SmartWare software. When the My Book Elite drive is plugged in for the first time, the simple and intuitive first backup process launches automatically. The real-time visual interface of WD SmartWare software gives users a reassuring view of their backup as it happens. After the first backup, users' files are backed up automatically every time they change or add a file.
My Book Elite drives also feature user-selected password protection combined with 256-bit hardware-based encryption, which scrambles files before they are stored. Typically found only on much more expensive drive systems, the encryption acts as a virtual padlock to keep users' data safe.
"The new My Book Elite drives' unique new e-label smart display and integrated WD SmartWare software give consumers an elegant and practical way to organize their content while enjoying the peace of mind that their data is backed up and secure," said Dale Pistilli, vice president of marketing for WD's branded products group. "Even when the My Book Elite drive is unplugged, consumers can easily see at-a-glance what is stored on their drive, how much capacity is available and whether the drive is locked."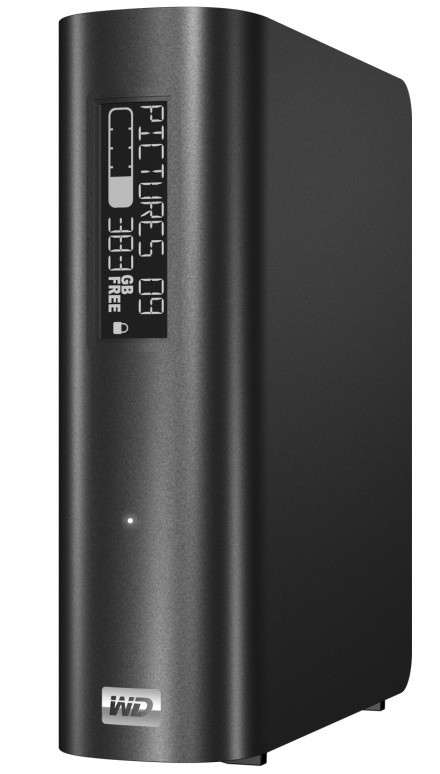 My Book Elite
The new WD My Book Elite drives feature:
- Smart display - a customizable e-label that reminds users of what is stored on the drive and provides available capacity and security status at-a-glance even when the drive is unplugged;
- Smaller, sleeker, more streamlined design and elegant book-like shape that takes up minimal space and allows multiple My Book drives to nestle together neatly like volumes on a shelf;
- WD SmartWare software that visually present consumers' data in a software control center;
- 256-bit hardware-based encryption and password protection for peace of mind knowing that data is protected from unauthorized access;
- USB 2.0 interface - for convenience and compatibility among multiple computers;
- WD GreenPower Technology™ lowers internal drive power consumption by up to 30 percent, a sleep mode reduces power during idle times, and a power-saving feature turns the drive on and off with your computer;
- Planet-friendly packaging derived from recycled materials to minimize waste;
- NTFS formatting and are compatible with Windows® XP, Windows Vista and Windows 7;
- 3-year limited warranty.
Product and Pricing Summary
Manufacturer: Western Digital
Product Name: My Book Elite 1TB, 1,5TB and 2TB
RRP for 1 TB: AU$ 199.99, NZ$ 249.99
RRP for 1.5 TB: AU$ 249.99, NZ$ 299.99
RRP for 2 TB: AU$ 399.99, NZ$ 499.99
Website: www.westerndigital.com
Australian Distributors: Synnex Australia
New Zealand Distributors: Ingram Micro NZ and Synnex NZ
Availability: Now
Download Media Kit:
http://www.gapmarketing.com.au/press_images/WD/MB_Elite_image01.zip
WD SmartWare Software
WD SmartWare software features:
- Visual backup displays that show content in categories and shows the progress of backup;
- Automatic, continuous data backup will instantly make a second copy whenever you add or change a file;
- Retrieve valuable data to its original location whether it's lost data or the file has been overwritten; and,
- Customizable data backup that allows users to set drive security, run diagnostics, manage the power settings, and more from the WD SmartWare control center.
About WD
WD, one of the storage industry's pioneers and long-time leaders, provides products and services for people and organizations that collect, manage and use digital information. The company designs and produces reliable, high-performance hard drives and solid state drives that keep users' data accessible and secure from loss. Its advanced technologies are configured into applications for client and enterprise computing, embedded systems and consumer electronics, as well as its own consumer storage and media products.
WD was founded in 1970. The company's storage products are marketed to leading OEMs, systems manufacturers, selected resellers and retailers under the Western Digital® and WD brand names. Visit the Investor section of the company's Web site (www.westerndigital.com) to access a variety of financial and investor information.
Last updated: Apr 7, 2020 at 12:00 pm CDT
PRICING: You can find products similar to this one for sale below.

United States: Find other tech and computer products like this over at Amazon.com

United Kingdom: Find other tech and computer products like this over at Amazon.co.uk

Australia: Find other tech and computer products like this over at Amazon.com.au

Canada: Find other tech and computer products like this over at Amazon.ca

Deutschland: Finde andere Technik- und Computerprodukte wie dieses auf Amazon.de
Related Tags