Logitech G27 Racing Wheel for PC and PS3 to be Available in Australia
Real Metal, Real Leather, Real Racing
SYDNEY -November 4th, 2009 - Logitech Australia today announced the local availability of the Logitech G27 Racing Wheel. Replacing and improving upon the venerable G25 Racing Wheel, the Logitech G27 Racing Wheel is designed to deliver the definitive sim racing experience for the PC and PLAYSTATION®3. With the G27, whether you're sliding sideways around a gravelly curve, or screaming through the streets of Monaco, the world's greatest circuits feel closer than ever.
The G27 features a powerful, dual-motor force feedback mechanism that smoothly and accurately delivers high-fidelity force effects to the hand-stitched leather wheel, so you can feel traction loss, weight shift, and the surface of the road. The helical gears deliver exceptionally quiet steering action, virtually eliminating noise and unwanted vibration. A six-speed gated shifter lets you choose exactly the right gear for the turn, while new RPM/shift indicator LEDs let you know just when to up- or down-shift. And the clutch pedal makes heel-and-toe downshifting possible, keeping your gear changes quick and your RPMs high all the way around the track.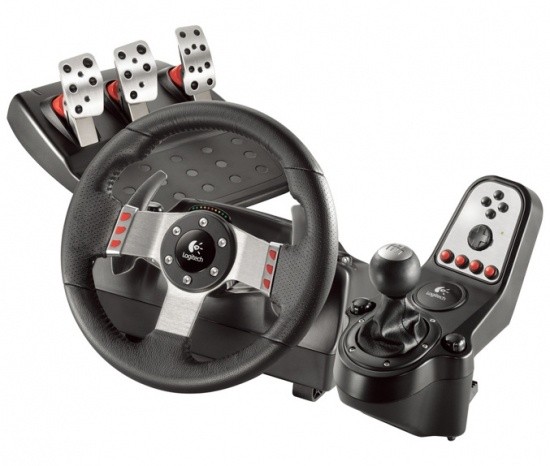 Nick Angelucci, Logitech Australia's Product and Marketing Manager said; "In designing the Logitech G27 Racing Wheel we have improved upon the highly esteemed Logitech G25 with easy access to more programmable buttons on the wheel, better feeling from the shifter module and improved responsiveness from the force feedback transmission. It all adds up to making a wheel that delivers an unsurpassed racing experience, all from your own lounge room."
The Logitech G27 Racing Wheel is expected to be available in Australia from mid-November for a suggested retail price of $599.95(AUD) inc. GST. For more information about the Logitech G27 or Logitech visit www.logitech.com.
About Logitech
Logitech is a world leader in personal peripherals, driving innovation in PC navigation, Internet communications, digital music, home-entertainment control, gaming and wireless devices. Founded in 1981, Logitech International is a Swiss public company listed on the SIX Swiss Exchange (LOGN) and on the Nasdaq Global Select Market (LOGI).
Last updated: Apr 7, 2020 at 12:00 pm CDT