Lenovo Introduces its First ThinkCentre All-in-One Desktop PC for Business
Lenovo today reshaped its ThinkCentre business desktop line by introducing its first all-in-one (AIO) desktop PC - the ThinkCentre A70z. Built for the needs of small and medium businesses (SMB) all the way up to large corporations, the AIO delivers a compelling alternative to the traditional desktop PC, starting at just $499. Despite the budget-friendly price tag, the high performance all in one comes with Intel Core2Duo processors and delivers blazing fast boot up time as one of Lenovo's Enhanced Experience certified PCs. The ThinkCentre A70z saves 70 percent more space, takes less time to set up and service and consumes less power than traditional desktops. At the same time, the AIO adds a new touch of style and sophistication for today's modern office. Lenovo today also introduced the ThinkCentre A58e tower desktop, bringing SMBs an affordable and reliable computing solution.
"We've heard from a number of IT managers in a variety of industries, from education, to finance to healthcare, and they've all told us they need desktops that conserve space, save on energy consumption and are easy to maintain and service," said Dilip Bhatia, worldwide desktop marketing, Lenovo. "The new ThinkCentre A70z exceeds these needs - not only is it compact, super energy efficient and quick to service, but it's also high performance and extremely affordable."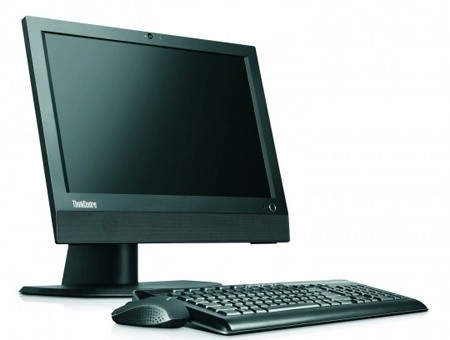 Reshaping of Desktop Market
According to IDC, the commercial all-in-one PC segment is projected to grow 16 percent year to year worldwide in 2010 with most of the desktop market consisting of small to medium business, small office/home office users and consumers. This trend fits into the growing SMB PC market, which is forecasted to grow to more than 99 million PCs in 20113.
ThinkCentre A70z Saves Space, Time and Money
The compact ThinkCentre A70z includes a 19 inch, 16:10 Widescreen LCD monitor packed into a 2.4 inch black frame that complements just about any office environment. On a desk, the AIO takes up 70 percent less space than a traditional desktop and monitor. It can also be mounted flush against an office wall, supported with a radial stand or rested against a leg stand similar to how a picture frame works. The AIO's single power cable6 helps eliminate unsightly cable clutter that plagues office desk space, and the built-in handle on the back of the monitor makes transporting easy.
Saving on space doesn't mean skimping on performance though. The AIO features:
• Choices of Intel Core2 Duo through Celeron Dual Core processors for demanding performance
• Direct X10 support for enhanced games and high-end 3-D applications
• A DVD drive, six USB ports, two audio speakers and optional Wifi
• An optional high resolution webcam and built-in Skype application for voice over
• Internet protocol web calling with friends and colleagues
• Support for up to 500GB of data storage for lots of photos, music and work files
With simple set up, a quick 35 second boot up time and 40 percent faster shut down time and easy access to the hard drive for servicing, the AIO helps save time all around, and businesses know that "time equals money." The affordable AIO also comes equipped at no extra cost with Lenovo's suite of ThinkVantage Technologies (TVTs). These value-added tools help businesses save money by speeding productivity and reducing downtime.
Additionally, Lenovo's Power Manager TVT helps organizations save energy by remotely deploying power schemes and global settings. The all in one comes Energy Star 5.0 rated for high energy efficiency, but for more savings, using the Power Manager helps save approximately $65 per year over previous Lenovo desktops8. To help reduce overall packaging material, the A70z ships with reusable protective bag. By using one box instead of two, material savings are equal to approximately 250 paper cups and 139 plastic packaging bags9.
ThinkCentre A58e Extends Desktop Value
Based on Intel Core 2 Duo or Celeron processors, the ThinkCentre A58e tower equips users to get the most out of their workday with an assortment of features including support for Microsoft Windows 7, up to 320GB of data storage, up to 2GB of memory and a DVD burner. Implementing Lenovo's Power Manager, businesses can reduce electricity costs on their ThinkCentre A58e by up to 69 percent per year10. The ThinkCentre A58e combines the essential computing technologies for just about any day-to-day business task at an extremely affordable price.
Services Tailored to the SMB
Lenovo offers a variety of enhanced warranty options as well as its ThinkPlus Priority Support service plan on both new PCs. Priority Support features 24×7 priority call routing to advanced technical support as well as a host of administrative tools. ThinkPlus Priority Support frees up IT staff to address critical business needs while helping to reduce or eliminate the need for around the clock in-house IT support, which can translate into significant cost savings.
In addition both PCs give customers the option to download a free trial of Lenovo Online Backup, a secure, encrypted offsite storage solution for critical data and files. Lenovo Online Backup lets users automatically back up their files and then restore them anytime, from anywhere in the world, via an Internet connection. The free trial includes 5GB of storage for 90 days.
Pricing and Availability
The ThinkCentre A70z all-in-one will be available at the end of November with models starting at approximately $499. The ThinkCentre A58e desktop is available currently with models starting at approximately $349. Both desktops will be available through Lenovo business partners.
Last updated: Apr 7, 2020 at 12:00 pm CDT