VIEWSONIC MAKES HD A HOUSEHOLD NAME WITH DIRECT-CONNECT MEDIA PLAYER BOX
From PC to HDTV, the VMP70 makes it easy to connect and share Full HD PC content
WALNUT, Calif. - November 2, 2009 - ViewSonic® Corp., a leading global provider of visual display and consumer electronics products, today introduced the VMP70 direct-connect, HD media player. Taking media that is stored on a hard drive or USB thumb drive the VMP70 makes attaining the ultimate Full HD big screen viewing experience easy and affordable.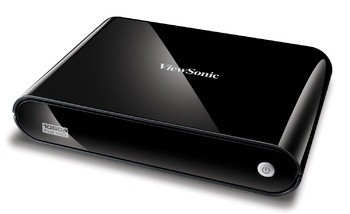 "We believe in enhancing the entertainment experience in a way that is both convenient and user intuitive," said Jeff Volpe, vice president and general manager of ViewSonic North America. "With more compatible media formats than any other media player on the market, we are confident that our portable media box provides consumers the freedom to enjoy HD multimedia content on their favorite HDTV without limitation."
The VMP70 makes it easy to enjoy ultra crisp, Full HD 1080p content on a TV or other entertainment system display. By simply inserting a USB drive or external hard drive into the player, users can enjoy their favorite output content, including HD movies with optional subtitles, TV shows, music and photo albums. Weighing less than one pound, this stylish and lightweight device can easily be brought along when visiting friends or family, making any digital library portable and accessible nearly anywhere.
Unlike some direct-connect media players, the VMP70 features a S/PDIF port, enabling the player to easily connect to even the most advanced home theater systems for a surround sound experience. A remote control is included for making easy adjustments to aspect ratio, audio and format settings. The VMP70 also ships with an HDMI cable standard in every box to provide users with the best consumer experience possible.
The VMP70 supports the most complete set of video and audio formats of any media player available including MPEG1/2/4, Divx/Xvid, MKV, H.264, VC-1, WMV9, RM/RMVB, DTS, Dolby Digital, WMA, MP3, FLAC, OGG and MKA to name a few. Connectivity options are nearly limitless as well with the VMP70's included HDMI, Component, composite, S/PDIF and duo USB drive slots for optional increased storage space.
The ViewSonic VMP70 is now available for an MSRP of $129.99 with a promotional holiday ESP of $98.99. For more information about the VMP70, click
here
.
For additional information on ViewSonic products, please visit www.ViewSonic.com or follow ViewSonic on
Facebook
,
YouTube
and
Twitter
.
About ViewSonic
ViewSonic® Corporation is a leading global provider of visual display and consumer electronics products. ViewSonic develops, markets and supports a broad range of innovative products, including computers, LCD monitors, LCD TVs, projectors, digital photo frames and digital signage displays. For further information, please contact ViewSonic Corporation at 800.888.8583 or 909.444.8888; or visit http://www.ViewSonic.com/.
Last updated: Apr 7, 2020 at 12:00 pm CDT