Garmin's Touchscreen aera Series Takes Pilots from Runway to Roadway
Garmin's Touchscreen aera™ Series Takes Pilots from Runway to Roadway
OLATHE, Kan./November 2, 2009/BUSINESS WIRE - Garmin International Inc., a unit of Garmin Ltd. (NASDAQ: GRMN), the global leader in satellite navigation, announced today the aera, Garmin's newest aviation handheld series that is touchscreen and multi-mode so that it can transition between aviation to automotive mode with one touch. The aera series includes four different models - aera 500, aera 510, aera 550 and aera 560 - and all have unprecedented ease of use that is derived from Garmin's 20 years of expertise in the aviation and automotive markets. The aera product line will be on display and available for purchase for the first time at the
Aircraft Owners Pilot Association (AOPA) Summit
in Tampa, Florida, November 5-7, 2009.
"Customers who use Garmin products in their plane and car often ask us to create an all-in-one GPS that combines our aviation expertise with the operational simplicity and clean exterior design of our automotive devices," said Gary Kelley, Garmin's vice president of marketing. "Since Garmin is vertically integrated and we do nearly everything in-house, we were able to meet our customers' requests by leveraging the best features of our consumer and aviation technologies. The aera series will appeal to those who need a low cost aviation handheld that is so simple to use that many will never have to crack open the manual."
In the air
The aera series has a 4.3 inch QVGA sunlight readable touchscreen display with large, finger-touchable icons. When in aviation mode, pilots are greeted with colorful icons that use intuitive pictures and labels to indicate their function: map, weather, terrain, direct to, HSI/panel, active FPL, numbers, nearest, WPT info, position, XM radio, and tools. Pilots can choose any of these functions by simply touching the appropriate icon. For example, after touching the terrain icon, pilots will see terrain and obstacle data that vividly depicts potential hazards.
The exterior of the aera 500, 510, 550 and 560 are identical, but the software features of each model are tailored to those seeking an entry or mid-level aviation handheld.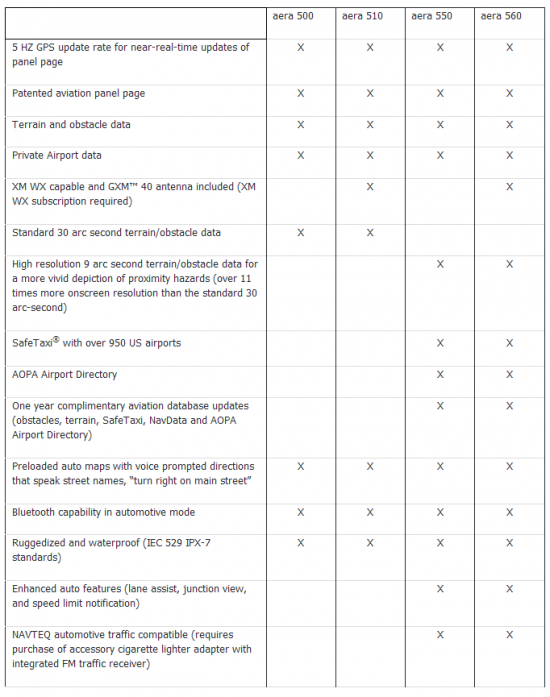 The aera 510 and aera 560 include a GXM™ 40 receiver for XM radio and XM WX Satellite Weather that provides NEXRAD weather radar, aviation routine weather reports (METARs), terminal aerodrome forecasts (TAFs), temporary flight restrictions (TFRs), lightning, winds aloft, turbulence forecasts, PIREPs, icing forecast and several other important weather products.
The aera 550 and area 560 include SafeTaxi and AOPA Airport Directory. SafeTaxi now includes geo-referenced diagrams of over 950 U.S. airports. SafeTaxi identifies runways, taxiways and hangars, as well as the aircraft's exact location on the field. The AOPA Airport Directory data is an electronic version of AOPA's popular U.S. pilot guide that includes information for over 5,300 public-use airports and more than 7,000 FBOs, such as pilot services, ground transportation, lodging, restaurants, and local attractions. In addition, Garmin's electronic version of the AOPA Airport Directory highlights airports where pilots can save on fuel by using self-service fueling locations.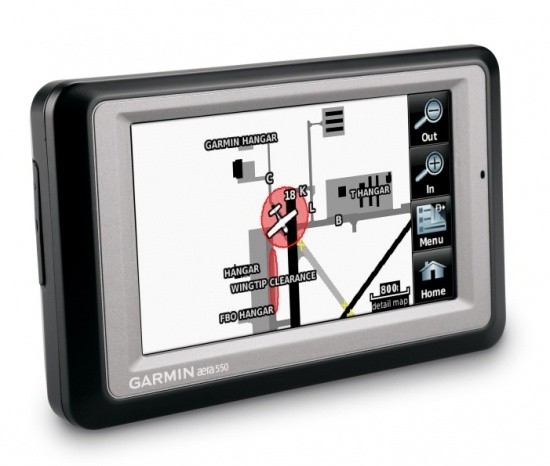 Pilots can keep track of and renew the databases on their aera device through fly.Garmin.com, a website that helps pilots manage Garmin database information and dramatically simplifies the process of updating and purchasing aviation databases such as obstacles, terrain and SafeTaxi. After logging onto fly.Garmin.com, the home page gives a quick synopsis of the owner's registered products and whether or not the databases are current. If a database needs to be updated, users can purchase one-time downloads or annual subscriptions directly from the site and install the database in three easy steps. Fly.Garmin.com eliminates the hassle of "unlock codes." Those who have purchased the aera 550 or aera 560 will receive one year complimentary aviation database updates for NavData, obstacles, terrain, SafeTaxi, and AOPA Airport Directory.
On the road
Customers can easily change from aviation to automotive mode by pressing the airplane icon at the top of the aera's screen. In the automotive mode, customers will see the same "Where to?" and "View map" interface found on Garmin nüvi® and zumo® products. The ruggedized and waterproof (IEC 529 IPX-7 standards) aera series comes loaded with detailed, street-level maps of the United States, Canada and Puerto Rico. For those who prefer two wheels over four, the aera is also compatible with Garmin's zumo 660 motorcycle mount. The aera allows for quick searches of street addresses or millions of preloaded points of interest like gas stations, hotels, restaurants, attractions, ATMs and more. In automotive mode, the device will speak street names so drivers will receive turn-by-turn, voice prompted directions through the aera's built-in speaker, such as "turn right on Main Street." If they miss a turn, the aera automatically recalculates a route and gets them back on track.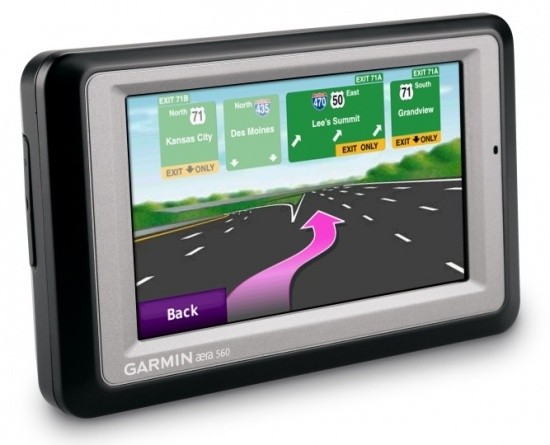 The aera 550 and 560 come equipped with advanced routing capabilities like lane assist with junction view so drivers will see a realistic presentation of road signs and junctions along the route, as well as arrows that indicate the proper lane for navigation. These features make it easy to navigate unfamiliar intersections and exits because the aera guides drivers to the correct lane for an approaching turn or exit. Map data is provided by NAVTEQ™ - a world leader in premium-quality mapping.
The benefits of XM and XM WX Satellite Weather capability are also available in automotive mode. While in the automotive mode, drivers may overlay weather information along their route, as well as simultaneously choose from XM radio's 170-plus channels of XM digital music, news and programming. XM radio and XM WX Satellite Weather subscription data is available from XM WX Satellite Weather, and is only available in the U.S. or Canada.
All aera products also have Bluetooth® Wireless Technology that makes it possible to receive and place phone calls directly from the aera while in automotive mode. It can be paired with over 200 Bluetooth enabled phones, and a driver can retrieve and dial numbers using a supported phone's contact list, the phone's call history log, or the aera's preloaded points of interest database.
The aera 500, aera 510, aera 550 and aera 560 are available immediately for an expected street price of $799, $1299, $1499, and $1999, respectively. XM WX Satellite Weather data and audio is provided by XM Satellite Radio. Please see http://www.xmradio.com/weather/aviation.html for pricing and other details. Additional information about the aera is available at www.garmin.com.
About Garmin International Inc.
Garmin International Inc. is a subsidiary of Garmin Ltd. (Nasdaq: GRMN), the global leader in satellite navigation. Since 1989, this group of companies has designed, manufactured, marketed and sold navigation, communication and information devices and applications - most of which are enabled by GPS technology. Garmin's products serve automotive, mobile, wireless, outdoor recreation, marine, aviation, and OEM applications. Garmin Ltd. is incorporated in the Cayman Islands, and its principal subsidiaries are located in the United States, Taiwan and the United Kingdom. For more information, visit Garmin's virtual pressroom at www.garmin.com/pressroom or contact the Media Relations department at 913-397-8200. Garmin, SafeTaxi, zumo and nüvi are registered trademarks and GXM and aera are trademarks or service marks of Garmin Ltd. or its subsidiaries. Bluetooth is a registered trademark of the Bluetooth SIG, Inc.
Last updated: Apr 7, 2020 at 12:00 pm CDT
PRICING: You can find products similar to this one for sale below.

United States: Find other tech and computer products like this over at Amazon.com

United Kingdom: Find other tech and computer products like this over at Amazon.co.uk

Australia: Find other tech and computer products like this over at Amazon.com.au

Canada: Find other tech and computer products like this over at Amazon.ca

Deutschland: Finde andere Technik- und Computerprodukte wie dieses auf Amazon.de
Related Tags