pureSilicon Unveils Latest Line of Fast, Ruggedized, High-Capacity SSDs
pureSilicon Inc. is now shipping Renegade R2, its latest generation of ruggedized solid-state drives (SSD), designed to deliver uncompromised performance in the harshest conditions. Renegade R2 Series SSDs offer enhanced read and write speeds (sequential read: 255 MB/s; sequential write: 180 MB/s), improved IOPS (random read: 18,000 IOPS @ 4K; random write: 1,200 IOPS @ 4K) and proprietary SiPher data security technology. The drives are available immediately in a wide range of densities (4GB, 8GB, 16 GB, 32GB, 64GB, 128GB) with SATA II configuration, in a low profile (9.5mm height) 2.5-inch form factor. 256GB, PATA, 1.8-inch form factor, and encryption versions will start shipping in Q1 2010.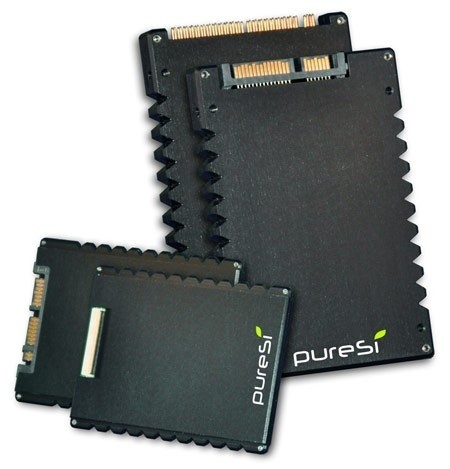 "pureSilicon is dedicated to providing high-performance, rugged storage solutions to the defense, military, industrial, and government markets," said Jason Breakstone, founder and CEO of pureSilicon. "While many SSD manufacturers are focusing their efforts on the mass consumer markets, pureSilicon is committed to designing and delivering technologies that will provide significant benefits to our customers such as full-disk encryption and data declassification methods. Renegade R2 is designed to operate in the harshest conditions."
High performance with real-world* specifications:
• Capacity: 4, 8, 16, 32, 64, 128, and 256GB using SLC flash
• Sequential Read: 255 MB/s
• Sequential Write: 180 MB/s
• Random Read: 18,000 IOPS @ 4K
• Random Write: 1,200 IOPS @ 4K
• Average Power: < 1.0W
Other features include:
• Renegade R2 uses the latest 34nm flash technology.
• Real-time 256-, 192-, or 128-bit AES (CBC or ECB) hardware-driven encryption/decryption.
• Secure-erase data declassification methods that meet strict government policies.
• Supports Self-Monitoring Analysis and Reporting Technology (SMART), Native Command Queuing (NCQ), Advanced Host Controller Interface (AHCI), and other advanced SATA commands.
• Conforms to SATA 2.6 and ATA-7 specifications.
• Features advanced wear-leveling and over-provisioning techniques to improve performance, prolong drive life, and boost reliability.
*pureSilicon publishes steady-state performance results. These are achieved by performing proper preconditioning, which prepares the drive for real-world usage scenarios and yields realistic performance benchmarks. Other SSD manufacturers claim 'clean' (new) drive performance specifications on a new drive, and users should expect to see performance reductions in real world use as a clean drive settles into its stabilized (steady) state - once the drive is nearing capacity and is consistently performing garbage collection, wear leveling, and bad-block management.
pureSilicon Renegade R2 SSDs are rugged and reliable
Renegade R2 SSDs perform in environments where heat, vibration, and humidity preclude the use of traditional hard disk drives or regular, 'consumer-grade' SSDs. Renegade R2 ensures compliance with MIL-STD-810F, a military standard that requires the SSD to sustain reliable operation during a series of rigorous tests that validate its ability to endure the harsh environments typical of extreme industrial and military applications.
Renegade R2 is a durable component that will continue to deliver high performance when other hard drives and SSDs would have failed. Ruggedized highlights include conformal coating, precision potting, and a hard-anodized unibody enclosure carved from a single piece of aluminum. pureSilicon uses components that can tolerate extreme temperatures, shock, and vibration, enabling Renegade R2 to perform from -40C to +85C. All Renegade R2 drives use industry-standard, single-level cell flash (SLC) to enhance reliability and long-term performance.
SiPher Technology - Full-disk encryption and data declassification ensure data protection
A dedicated on-board cryptographic processor provides hardware-driven 256-bit AES encryption that delivers instantaneous encryption and decryption of data. Renegade R2 can be authenticated through many different methods such as PIN/password, trusted platform module (TPM), smart card, universal serial bus (USB), or biometrics that use a unique 'key' to unlock the drive. Without the key, data that has been stored on the Renegade R2 will be incomprehensible to anyone who tries to access it.
Data declassification technology is used to ensure all data written to the Renegade R2, whether encrypted or not, is securely erased. Individual government organizations have different policies that require data be erased using special algorithms. Out of the box, Renegade R2 is capable of deploying many of the standard government data declassification algorithms.
Energy-efficient and planet-friendly
pureSilicon is committed to energy efficiency and designs storage products that yield high performance per watt. Whether the goal is to increase productivity in a mobile environment or reduce energy costs in a datacenter, deploying pureSilicon SSDs will help achieve these objectives. Legacy storage products such as hard disk drives are becoming less energy-efficient as manufacturers strive for higher performance, whereas SSDs offer superior performance and scalability, with lower energy consumption.
Available for immediate delivery
Renegade R2 is available immediately in a wide range of densities (4GB, 8GB, 16 GB, 32GB, 64GB, 128GB) with SATA II configuration, in a low profile (9.5mm height) 2.5-inch form factor. 256GB, PATA, 1.8-inch form factor, and encryption versions will start shipping in Q1 2010.
Last updated: Apr 7, 2020 at 12:00 pm CDT