Silicon Power's Stylish USB Reader & M2 Card Combo Pack - Versatility in an Elegant Small Package
(Taipei, Taiwan) Flash memory leading manufacturer Silicon Power officially released a "Stylish USB Reader & M2 Combo Pack" to the masses. The combo pack is designated for the needs of modern day digital handheld devices. The M2 card is available in several capacities and the inclusion of the USB reader allows users to access all recorded data from the M2 card. Whether the data is recorded by your mobile phone, PDA, camera, etc., users can conveniently access all data on it.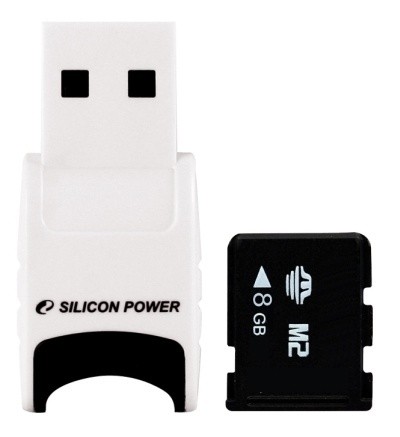 Silicon Power's M2 card & USB reader combo pack offers users flexibility and storage space to capture their favorite snapshot, record their exciting moment or simply just store everyday data. The stylish USB reader needs not use any cables, just plug in the M2 card, plug the reader into your PC and you're good to go! Use the M2 card for your digital hand held devices or plug it into the USB reader and use it like a USB flash drive but once unplugged, the milky-white reader turns into a decorative accessory with its simple and elegant looks. Just attach it to your purse or keychain, it is easy to carry and serves a decorative purpose.
M2 card
- Compatible with Sony mobile phones, cameras (with the use of an adaptor), and PSP (with the use of an adaptor)
- Plug and play compatible, easy to use
- In compliance with RoHS directives
- Lifetime warranty
Stylish USB Reader
- Compatible with USB2.0 specifications
- Direct plug in of M2/microSDHC/microSD cards without the need for an adaptor
- No external power required
- 2-year warranty
Specifications: Stylish USB Reader
- Dimension: 35.6mm(L) x 16.6mm(W) x 7.6mm(H)
- Weight: 2.6g
- Supported operating system: Windows Vista, Win XP, Windows 2000, Mac OS 9.0.4 or later
-Operating temperature: 0°C -70°C
About Silicon Power
Silicon Power Computer & Communications Inc., founded by a group of specialists with more than 20 years experience in the field of international trading, global marketing, technical know-how of flash data storage products, is the world's leading manufacturer of flash memory cards, USB flash drives, DRAMS, and card readers. We are also the initiator to offer Lifetime Warranty service both for the Flash Memory Card series and USB Flash Drive products. At the heart of Silicon Power, it exists a strong atmosphere of "Sharing, Caring, and of being Trustworthy." These are our finest commitments at the core. Recognized and supported in over 90 countries, Silicon Power provides fast, international lifetime service and superior products. Silicon Power makes a remarkable and successful achievement in the global community. The company is headquartered in Taipei and has established branches worldwide including the Netherlands and Japan.
Last updated: Apr 7, 2020 at 12:00 pm CDT