Acer Unveils Aspire Z5610 All-in-One PC
Acer, the third largest vendor in the worldwide PC market, today announced the Acer Aspire Z5610-U9072, a truly elegant, no-compromise all-in-one desktop PC featuring intuitive multi-touch technology and Windows 7 Home Premium. A powerful entertainment hub for the home, the Z5610 packs first-class performance and feature-rich functionality in a striking design. It will be available this holiday season at online retailers for an attractive price of $899.99.
Engineered to eliminate clutter and maximize workspace, this practical all-in-one streamlines the home or office with a flash of style and offers a unique blend of features and architecture. Boasting a stunning 23-inch HD display, ATI Mobility Radeon graphics and Intel Pentium Dual Core processing, the Aspire Z5610 offers world-class digital prowess.
"Our Aspire Z5610 all-in-one is a beautiful blend of visual elegance, state-of-the-art technology and premium performance," said Susan Hu, desktop product manager for Acer America. "The intuitive touch-screen with Windows 7 multi-touch capability brings new excitement and hands-on efficiency to digital media applications. Packaged in a powerful platform, it will deliver fun and productivity for years to come."
"We are excited about working with PC manufacturers like Acer to offer users a great new way to interact with their PC running Windows 7," said Michelle Haven, product manager for Windows Touch at Microsoft Corp. "With Windows 7, multi-touch support is built right into the operating system, so users with a touch-screen PC like the Acer Aspire Z5610 can now interact with their PC in an easy and intuitive way, simply by reaching out and touching the screen."
Intuitive Multi-Touch Display
Featuring 1920x1080 pixel resolution, the 23-inch HD 16:9 TFT display enhances games, Internet surfing and more with ultra-sharp, colorful imagery. Intuitive multi-touch technology brings an entirely new level of control to the computer user. In the past, the touch experience has been limited to one-finger touch capability. With multi-touch, users can intuitively interact with the PC using multiple fingers as they would a mouse. They can open and close programs, browse online newspapers, flick through photo albums and shuffle files and folders, using nothing but their hands.
Windows 7 is the first Windows operating system to fully embrace multi-touch technology. To zoom in on an image or map, users just need to place two fingers on the screen and spread them apart. To right click a file, users simply touch it with one finger and tap the screen with a second. The integrated multi-touch technology enables more gesture combinations and functionality than single-touch screens for a faster and more intuitive digital experience.
Premium Performance
Comprised of powerful desktop components, 4GB DDR3 SDRAM upgradeable to 8GB and a 320GB SATA hard disk for storing a huge multimedia library, the Z5610 is a no-compromise desktop solution. Discrete ATI Mobility Radeon graphics display images in vivid color and sharp detail, while Intel Pentium Dual Core processors fuel the system with significant power.
For dynamic audio, 5.1-channel surround sound is delivered via an integrated 5W stereo speaker system. With ports for headphones, microphones and other audio peripherals, users can immerse themselves in their favorite high-def music and movies. DVD movies and other files from a digital camera or videocam can be enjoyed with the slot load DVD+/-R/RW SuperMulti drive for archiving media.
The Acer Aspire Z5610 provides a fast network connection with 802.11b/g/Draft-N wireless and Gigabit Ethernet. It also has a built-in HD webcam and microphone for videoconferencing with family and friends.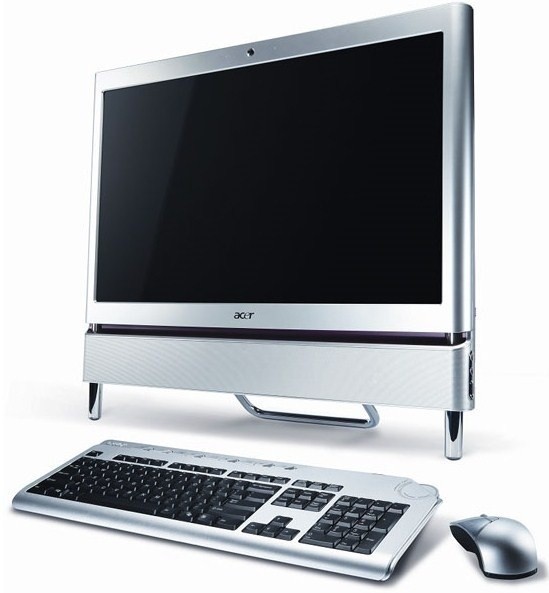 Aesthetic State-of-the-Art Design
The combination of style, top-of-the-line desktop components and touch technology make this PC a powerful entertainment hub for the home. Inspired by high-end digital entertainment, the Aspire Z5610 is an elegant PC that bridges the gap between traditional desktops and monitors. A seamless integration of a desktop PC with the usability of a multi-touch LCD display, it's an easy fit for any living room, den or office.
Designed as a timeless piece, the Z5610 boasts simple purposeful details such as an illuminated strip between the LCD and sound bar, which helps users see the keyboard in a darkened environment. The system's clean and simple lines emphasize the ease and simplicity of the user's PC experience. Elevated by two chrome legs, users can discretely stow away the keyboard under the desktop to further free up workspace and maximize the system's multi-touch capabilities.
Innovative Software
In addition to Windows 7 Home Premium, the Aspire Z5610 also comes with Microsoft Touch Pack for Windows 7, a set of six multi-touch optimized applications and games. These include three casual games, Microsoft Blackboard, Microsoft Garden Pond and Microsoft Rebound and three surface applications - Microsoft Surface Globe that lets users browse the world and zoom in on any location on a virtual 3D earth; Microsoft Surface Collage, a touch-enabled background and Microsoft Surface Lagoon, a touch interactive screensaver.
In addition, the Aspire Z5610 offers Acer TouchSuite, an integrated touch interface that syncs the PC and Internet with fingertip precision. Acer TouchSuite makes it easy to browse and enjoy social networking and digital media of all types. Users simply go to the Acer TouchPortal to activate Acer Touch Gadgets, which include:
• Acer TouchMediaShare - Uses touch controls to make the management and sharing of photos fun and easy. It includes a photo browser, photo album shortcut and quick import for importing photos directly from a digital camera or USB drive with just one touch. Users can edit, zoom-in/out and email images to friends as well as view and download their friend's updated photo albums from Facebook and Flickr.
• Acer TouchMusic - Launches the music player and organizes the music collection.
• Acer TouchPhotoShow - Allows the integration of online and local photo albums as well as slideshow creation.
• Acer TouchFriends - Provides auto-integrated friends list from Flickr and Facebook as well as photo update notifications, which enable instant photo browsing.
• Acer TouchMemo - Launches a note, enables a handwritten memo and provides an alarm reminder.
When done using the Acer TouchSuite, users can simply peel back the desktop with a finger and return to the standard Windows 7 environment.
Pricing, Availability and Specifications
The Acer Aspire Z5610-U9072 all-in-one desktop PC is available in the U.S. via leading online technology retailers this holiday season for a MSRP of $899.99.
Acer Aspire Z5610-U9072 All-in-One Desktop Specifications:
• Windows 7 Home Premium
• Microsoft Touch Pack for Windows 7
• Intel Pentium Dual Core E5300 Processor (2.60GHz, 2MB L2 Cache, 800MHz FSB)
• 4GB DDR3 SDRAM
• 320GB SATA Hard Disk (2)
• SuperMulti Optical Drive
• Multi-in-One Card Reader
• ATI Mobility Radeon HD4570 Graphics With 512MB Memory
• High Definition Audio With 5.1 Channel Support
• 10/100/1000 Gigabit Ethernet, IEEE 802.11 b/g/Draft N
• Six USB 2.0 Ports (Two Side, Four Rear)
• eSATA Port
• Integrated HD Webcam with Microphone
• Integrated Keyboard Light and Foot-Mounted Ambient Lighting With Toggle Switch
• 10-20 Degree Ergonomic Tilt Adjustment
• Wireless Keyboard and Mouse
• Built-In Speakers
Integrated 23-Inch LCD Display:
• 1920x1080 Resolution
• 300 cd/m2 Brightness
• 5 ms Response Time
• 1000:1 Contrast Ratio
Last updated: Apr 7, 2020 at 12:00 pm CDT