Zoom Announces Availability of the Q3 Handheld Video Recorder with HD Audio at Nationwide Retailers
Q3 provides amateur videographers with professional studio quality audio that no other handheld video recorder can match
Hauppauge, NY - October 13, 2009 - Zoom, makers of award-winning professional audio recording devices, are excited to announce the much anticipated availability of the Q3 Handy Video Recorder. Unlike other handheld video camcorders, the Q3 records stereo sound with two condenser microphones, which allow users to capture crystal clear HD audio with their movies. The ability to capture audio at 24-bit/48 kHz is especially important for users planning to upload their footage to video share sites like YouTube, which compress video but now allow files with stereo audio at 44.1 kHz, which is CD quality.

"While it can be difficult to discern the difference between High Quality and High Definition videos on sites like YouTube, High Definition audio makes a big difference in the viewing experience," says Mark Wilder, Samson Director of Marketing. The Q3 Handy Video Recorder allows you to capture audio that your audience can easily identify as superior quality and is unmatched by audio captured on any other handheld camcorder."
Powered by 2 AA batteries, the Q3 will record for up to two hours in true stereo and clear 640 x 480 resolution refreshed at 30 frames per second. The Q3 features a brilliant 2.4-inch 320 x 240 resolution LCD that displays audio level meters, a battery indicator and time elapsed. The Q3 accepts up to a 32 GB SDHC card to deliver up to 16 hours of movie making capacity. Users can easily upload videos to a computer with the clever flexible USB cable for immediate editing and sharing.
FULL SPECS BELOW
To request additional information and/or product images, please contact PR Representative Mark Olson at (305) 576-1171 x17 or at markolson@maxborgesagency.com.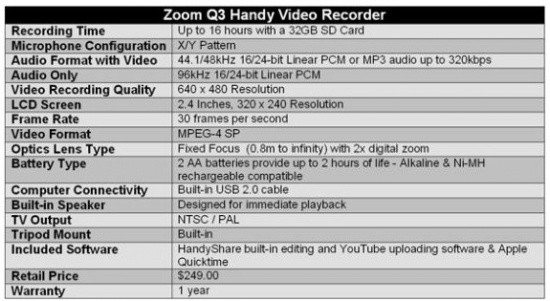 About Samson Technologies
Samson Technologies designs, manufactures and distributes high-performance audio, wireless and music accessory products in the United States and 106 countries abroad. Samson is well-known as a leading audio technology company with a long history of successful products in the professional audio segments as well as the mainstream consumer markets. Additionally, Samson is also the exclusive worldwide distributor of Hartke products and the exclusive U.S. distributor of Zoom recording and signal processing electronics. Samson Technologies is based in Hauppauge, NY. For more information, please visit www.samsontech.com
Last updated: Apr 7, 2020 at 12:00 pm CDT