A Webcam for Everywhere: Logitech Webcam C905 for HD Performance on the Go
One Million Enjoy Logitech's Free, Fast, Easy Video-Calling Software
SYDNEY, Aust. - Sept. 29, 2009 - To help you stay close to those who matter most, no matter where you are, Logitech Australia today unveiled the Logitech® Webcam C905 for laptop users on the go. Boasting premium autofocus technology and Carl Zeiss® optics, the Logitech® Webcam C905 delivers image-perfect detail and clarity, and exceptional video calling.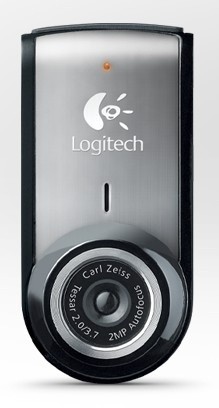 Optimised for laptops and netbooks, the highly versatile Logitech Webcam C905 features an easy-to-transport design so that you can make a video call no matter where you are, on any PC. With Carl Zeiss® optics and auto focus, people can enjoy razor-sharp images even in extreme close-ups. A 2-megapixel HD sensor delivers fluid, true-to-life video up to 720p and snapshots at up to 8 megapixels (software enhanced). Logitech® RightLight™ 2 technology intelligently adjusts to produce the best-possible images, even in dim or backlit settings. And with Logitech® Video Effects™, you can personalise your conversations by choosing from hundreds of avatars, face accessories, and masks that mirror expressions and movement.
"Our newest high-performance portable laptop webcam, coupled with our easy-to-use Logitech® Vid™ video-calling software, provides people with an exceptional video-calling experience," said Nick Angelucci, product and marketing manager for Logitech Australia.
"In just the first three months since launching Vid, user registrations have reached a million accounts worldwide, showing that consumers want simple, hassle free and effective communication solutions," he added.
Logitech Vid dramatically simplifies video calling by offering a streamlined setup and a simple, intuitive interface. In fact, you can set up Vid in fewer than half the steps required by the major instant-messaging programs. Continuing in the company's mission to help you and your loved ones connect face to face, Logitech Vid is the latest in a series of Logitech innovations for video calling and is included with the recently launched Logitech® series of Web cameras.
Powered by the Logitech® SightSpeed® Network, Vid is a reliable source for high-quality video calling and is compatible with PC and Mac® computers, as well as stand-alone and embedded webcams. Vid is available for download at www.logitech.com/Vid.
Pricing and Availability
Available in Australia in early October, the Logitech 2 MP Portable Webcam C905 has a suggested retail price of $199.95 AU, including GST.
About Logitech
Logitech is a world leader in personal peripherals, driving innovation in PC navigation, Internet communications, digital music, home-entertainment control, gaming and wireless devices. Founded in 1981, Logitech International is a Swiss public company listed on the SIX Swiss Exchange (LOGN) and on the Nasdaq Global Select Market (LOGI).
Last updated: Jul 27, 2022 at 04:07 am CDT