MAINGEAR High Performance Gaming PCs now Available with ATI Radeon HD 5870 Series
MAINGEAR Ephex, F131, Prelude, and Dash now feature the latest advanced graphics performance from ATI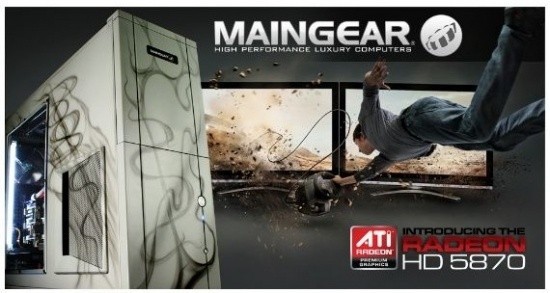 Union, New Jersey - September 23, 2009 - MAINGEAR Computers, award-winning builders of high performance custom computers for PC gamers and enthusiasts, are excited to announce the immediate availability of the ATI's Radeon 5870 series to be configured with their Ephex, F131, Prelude, and X-Cube high performance gaming systems. ATI's newest series of graphics cards will provide gamers with full DirectX 11 support, stunning 3d visual effects, ATI Eyefinity allowing you to run up to 3 displays from a single board, and ATI Stream massive parallel processing providing a new level of computational power for video transcoding, upscaling, and other technologies.
"We're proud to feature the AMD ATI Radeon HD 5870 graphics processor in our award-winning custom PCs," says Wallace Santos, CEO and Founder of MAINGEAR Computers. "It's only fitting that the world's fastest GPU find its way into what has been hailed by editors all over America as the fastest gaming computers on the market."
MAINGEAR is currently shipping up to three Radeon HD 5870s in CrossFireX on the ePhex luxury gaming computer, the F131, and up to two Radeon HD 5870s in the Prelude and X-Cube small form factor gaming PC.
About MAINGEAR
MAINGEAR is the premier high performance systems integrator in North America. MAINGEAR custom builds gaming, home office, mobile, multimedia, small business and 3D workstation solutions of the highest quality, which have won them many editors' choice awards in every major computer publication such as C-Net, [H]ard|OCP, Maximum PC, CPU Magazine, etc. For more information on MAINGEAR, please visit www.maingear.com or call, toll-free, (888)624-6432.
Last updated: Apr 7, 2020 at 12:00 pm CDT