CyberPower Announces New Factory Overclocked Intel Core i5 and Core i7 800 Gaming Rigs
- Get Your Venom Boosted Core i5 and i7 Rigs
BALDWIN PARK, CA (September 8, 2009) - CyberPower Inc., www.cyberpowerpc.com a manufacturer of custom gaming machines and an Intel Premium Channel Partner, today announced five new high performance gaming rigs based on Intel's new Core i5 and Core i7 800 Series processors along with Intel's P55 chipset.
CyberPower customers can begin customizing and configuring their Core i5/i7 gaming rigs in tandem with Intel's official launch on September 8th.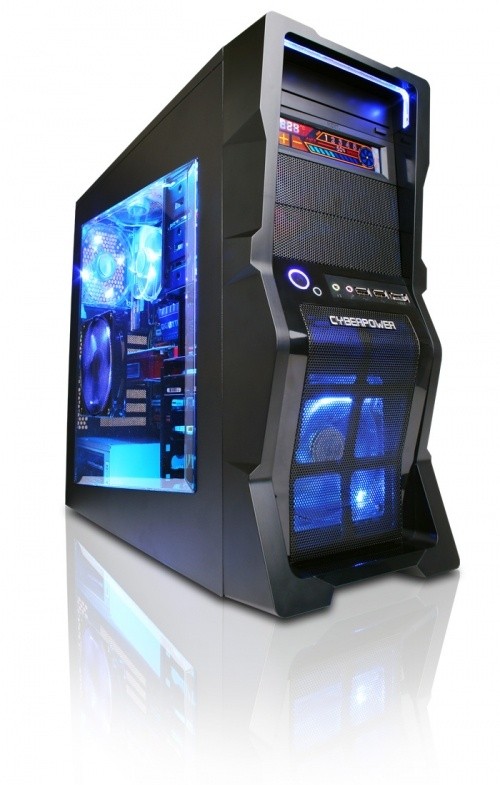 CyberPower will initially offer five new models in its Gamer Xtreme 1000 to 5000 series, which will feature Intel's LGA 1156 Core i5 or i7 processors with a choice of new Intel Core i5 750 (2.66GHz), i7 860 (2.80 GHz), and i7 870 (2.93 GHz) CPUs. Customers will have several new P55 chipset motherboards to park their new processors in from leading motherboard manufacturers such as Gigabyte, Asus, EVGA, and MSI.
Intel's "Lynnfield" i5/i7 processors and P55 chipset provide enhanced performance for digital media creation and demanding multi-tasking and excellent graphics options for gaming.
The Core i5 features intelligent performance, which automatically adjusts the processing power and speed of your processor to your workload demands. Intel's Turbo Boost Technology easily increases the speed of your CPU without manipulating settings in the motherboard bios. The new processor architecture also features an integrated dual channel DDR3 memory controller for improved responsiveness and performance.
The new line of Gamer Xtreme models will also feature CyberPower's Venom Boost technology, which provides factory overclocking with full warranty. For a limited time offer, customers can request a free Pro OC Venom Boost, which overclocks the CPU 10% or more.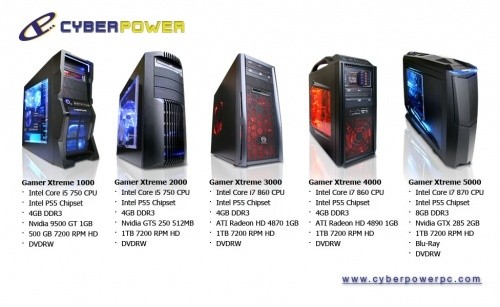 CyberPower will also offer a free Windows 7 upgrade coupon with the purchase of selected Windows Vista Operating System Installed. Base price of the Gamer Xtreme i5/i7 systems with P55 chipset start at $749. All systems can be ordered directly from CyberPower and other e-tailers (e.g. Newegg, Tigerdirect, Amazon, PC Club). http://www.cyberpowerpc.com/LandingPages/intel/i5/
About CyberPower Inc.
CyberPower Inc. www.cyberpowerpc.com was founded in 1998 and has emerged as one of the leading custom computer system manufacturers. Headquartered in Baldwin Park in Southern California, CyberPower manufactures and distributes a complete line of custom built gaming machines, notebook systems and high performance workstations to meet the unique needs of gamers, businesses, government agencies, educational institutions and other end-users. For more information contact: Sales (800) 707-0393
Last updated: Apr 7, 2020 at 11:59 am CDT