SAN FRANCISCO, Oct. 24, 2019 - MICRON INSIGHT - Micron Technology, Inc. (Nasdaq:
MU), today unveiled new solid state drives (SSDs) that expand Micron's broad portfolio of drives
available to both consumer and enterprise customers for storing the world's data. The new
Micron® 7300 NVMe series and Micron® 5300 SATA series of SSDs enable enterprises to
modernize, economize and maximize return on their data center investments.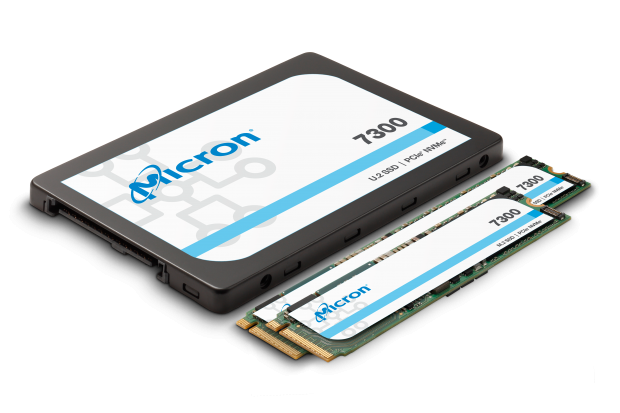 Addressing consumers' need for mobility, Micron also announced its entry into the consumer
portable SSD market with the launch of its Crucial® X8 Portable SSD.
"We are excited to introduce these new products that significantly expand our addressable
market - with mainstream NVMe SSDs for the datacenter and portable SSDs for consumers -
while building on our leadership in enterprise SATA SSDs," said Sumit Sadana, executive vice
president and chief business officer of Micron. "Micron's growing portfolio of high-value storage
solutions is built on industry-leading 3D NAND technology and provides customers a broad set
of options to address their increasing data storage needs."
Analyst firm IDC forecasts that the world's data will grow from 33ZB in 2018 to 175ZB in 2025.2
Data centers will require higher-performance enterprise-class drives that can sustain heavy
workloads to ensure that organizations have faster access to their data. In parallel, growing
volumes of data are increasing average capacities in enterprise and consumer drives. The new
SSDs deliver on Micron's commitment to provide differentiated solutions that store data across
all market segments and needs, from consumer to cloud.
Micron 7300 NVMe Series SSDs
The Micron 7300 NVMe series of SSDs are designed for workloads that demand high
throughput and low latency. They are ideal for commonly used mixed read-write, compute and
virtualized tasks such as SQL and NoSQL, for hyperconverged infrastructures, and for computecentric
cloud platforms. The use of 96-layer 3D TLC NAND technology brings cost and power
efficiencies while the drives offer end-to-end data path protection, power-loss protection, secure
firmware and instant secure erase capability.
The 7300 NVMe series come in a wide variety of form factors, capacities and endurance levels.
The drives will be available for ordering starting in December 2019. The 7300 series of drives
complement Micron's existing data center portfolio, which includes the high-performance 9300
NVMe SSDs announced earlier this year.
For more information on the Micron 7300 series of NVMe SSDs, including capacity ranges and
specifications, visit: https://www.micron.com/products/solid state-drives/product-lines/7300
Micron 5300 SATA Series SSDs
The new Micron 5300 SATA SSDs allow enterprises to extend their infrastructure investment by
enabling an upgrade of their data centers with next-generation SATA drives. The Micron 5300
SSDs are the industry's first 96-layer 3D TLC enterprise SATA drives with enhanced security.
The new SSDs are optimized for read-intensive and mixed-use workloads while offering
reliability that is 50% higher than the industry average for SATA drives.
The 5300 SATA series of SSDs are available in a range of capacities, from 240GB to 7.68TB.
To learn more about the Micron 5300 SATA series of SSDs, visit: https://www.micron.com/products/solid state-drives/product-lines/5300
Crucial X8 Portable SSD for Consumers
The Crucial X8 Portable SSD, introduced by Micron's industry-leading consumer brand for
memory and storage upgrades, caters to the ever-expanding need for more storage by
consumers, who are capturing more photos and playing larger console and PC games than ever
before.
The Crucial X8 portable drive delivers impressive performance in a sleek case. With read
speeds up to 1,050MB/s,3 the drive performs 1.8 times faster than similar portable SSDs within
the same price category and up to 7.5 times faster than portable hard drives. The Crucial X8 is
compatible with a variety of devices, including PCs, Macs, PS4s, XBOX Ones, iPad Pros,
Chromebooks and select Android devices.
Crucial's award-winning SSDs undergo thousands of hours of Micron prerelease validation and
extensive SSD qualification testing before market release. The drive is drop-proof up to 7.5
feet.4 Crucial X8 is backed by a three-year limited warranty and immediately available for
ordering in capacities up to 1TB at crucial.com and through select global partners.
Last updated: Apr 7, 2020 at 12:12 pm CDT