SEOUL, SOUTH KOREA - September 18, 2019 - Developer and publisher KRAFTON Game Union, best known for PUBG and TERA, are excited to share more details about their latest project. MISTOVER, a stylish turn-based RPG where strategy, choice, and dangerous dungeons await, is set to release digitally on October 10 for the Nintendo Switch system, PC (via Steam), and PlayStation 4 computer entertainment system. Today's trailer takes a deep dive into the game's many unique character classes who will aid the Expedition Corps in battle as they seek to unravel the mysteries of the mist.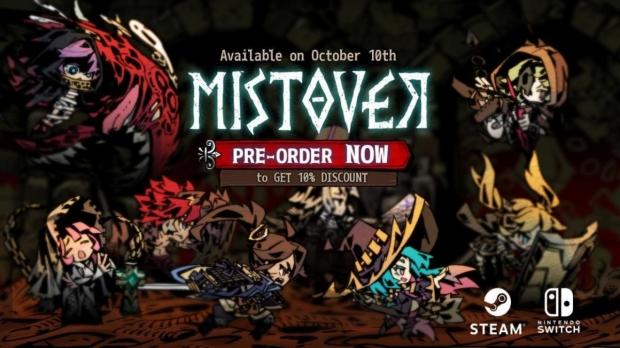 Starting today at 10:00 pm PDT through October 9, 2019 at 11:59 pm PDT, adventurers of the Expedition Corps can also secure their ticket to great adventures and deadly dungeon dives at a 10% discount off the suggested retail pricing of $29.99 by pre-purchasing MISTOVER on the Nintendo eShop and Steam.
Better yet, meet the developers of MISTOVER in person! KRAFTON Games Union will be at San Diego TwitchCon from September 27 -29 at the San Diego Convention Center. Join us at booth 1364 for personal MISTOVER demonstrations, meet the developers, and find out more about the developer's unique approach to the traditional turn-based RPG genre. KRAFTON Game Union will also have select streaming opportunities from the booth at TwitchCon.
About MISTOVER
Featuring a striking art style that draws from both Western and Asian influences, MISTOVER is a dungeon crawler RPG with a strategy focused turn-based combat system. Players are charged with managing and leading a Corps crew on an ever-changing dungeon expedition through the Pillar of Despair, unraveling the mysteries of the Vortex to find a cure to the corrupting properties of the Mist that threaten the realm.
MISTOVER Highlights Include:
Over 40-hours of expeditions through five distinct regions.

Procedurally generated dungeons deliver new expedition experiences every time. Adjust your strategy to the ever-changing dungeons.

Build an invincible Corps by combining and strategizing with eight different classes.

Learn and master over 13 unique skills and upgrade equipment to enhance Corps members.

Exposure to the Mist affects everything, sometimes in surprising ways, including Corps members, monsters, plants and animals, and even equipment, items, and relics.

Unique game systems find players managing internal conflicts between 'satisfaction' and 'greed'

Designed for players who like difficulty, MISTOVER is not for the faint of heart - and features a permanent death system. But do not despair, you'll always find new Corps members to refill your ranks.
Can't make it to TwitchCon? You can play the MISTOVER timed demo right now on Nintendo Switch system on the Nintendo eShop, PC (via Steam) and PS4 system on PlayStation Store. Players can look forward to an introduction to the game's combat system and dungeon crawling gameplay. A deeper demo experience with even more content is coming soon. Be sure to follow the developers for more updates.