PARIS - September 12, 2019 - Asmodee Digital, a leader in video game entertainment inspired by board games, is proud to announce that Munchkin: Quacked Quest will be released on PlayStation 4, Nintendo Switch, Xbox One and Steam (PC) in Autumn 2019.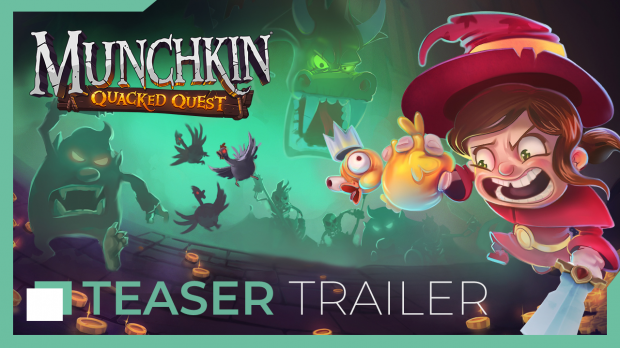 The teaser trailer captures the essence of Munchkin: Quacked Quest, through its unique take on dungeon-crawling. Go down into the dungeon, kill everything you meet, backstab your friends and steal their stuff, and grab the treasure and run! But don't forget the ducks...
The digital game is based on Munchkin, the award-winning card game designed by Steve Jackson. The winner of the 2001 Origins Award for Best Traditional Card Game, Munchkin: Quacked Quest captures the essence of the dungeon experience, but with none of that stupid roleplaying stuff. You compete to kill monsters and grab magic items, and what magic items they are! Don the Horny Helmet and the Boots of Butt-Kicking. Wield the Staff of Napalm, or maybe the Chainsaw of Bloody Dismemberment. You may start by slaughtering the Potted Plant and the Drooling Slime, and work your way up to the Plutonium Dragon.
Illustrated by John Kovalic and featuring fast-playing and silly gameplay, Munchkin can reduce any roleplaying group to hysteria. And while they're laughing, you can steal their stuff.
Munchkin: Quacked Quest is the first video game based on the hit card game universe designed by Steve Jackson, loaded with:
Humor: the narrator breaks the fourth wall by commenting on the actions of the players; the silly items, weapons and enemies in the game; and the unique objectives (such as the Golden Duck win).
Pop culture references: mixing entertainment with RPG parody.
Cooperate (now) to better betray (later): players need to constantly keep an eye on their friends, as backstabbing your comrades is an efficient road to victory.
Each of the four classes (warrior, thief, cleric and wizard) and four races (orc, elf, dwarf and halfling) offer unique abilities to master and trigger at the right moment to gain an advantage over your opponents. The mix between accessible, yet rich, gameplay and a leveling race offers intense & skill-based brawling action.