TAIPEI, Taiwan, Sep 12, 2019 - The leading global motherboard, graphics card and mini PC manufacturer, ASRock, announces their new Taichi X series graphics cards - the Radeon RX 5700 XT Taichi X 8G OC+, which is ASRock's first Taichi X series graphics card featuring AMD's latest Radeon RX 5700 XT GPU and 8GB 256-bit GDDR6 memory, brings exceptional computing power and an immersive experience nested within an elegant design.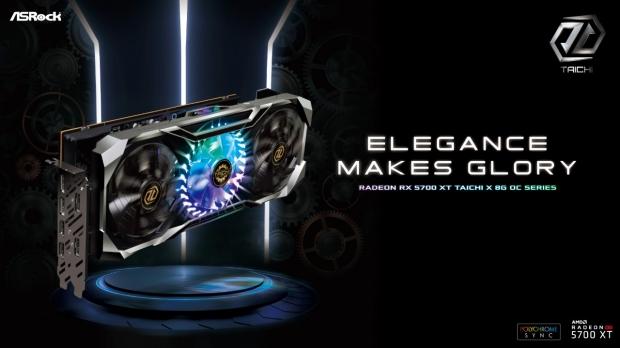 In Chinese culture, "Taichi" represents the philosophical state of yin and yang. ASRock's Taichi graphics cards are designed for tech geeks and power users who care about products' design and quality, and comes with premium features that can fulfill every geek's dream and fulfill power user's important task. To carry forward Taichi's spirit, which symbolizes the balance between elegance and stability; Taichi graphics cards are formed with two main elements in mind - "design" and "quality".
The newly developed Taichi X OC+ graphics card delivers a completely new 2.5-slot heat-sink module with 3 fans and ARGB lighting which can be customized using the software utility. Featuring a 3D metal backplate, 6 display outputs (4 DisplayPorts and 2 HDMI connectors), and a dual BIOS and full housing within a reinforced metal frame. Based on AMD's new RX 5700 XT RDNA architecture, the Taichi X series graphics cards are capable of delivering superior 1440p productive and gaming experiences. Onboard is a reliable heat-sink module, and the 10+1 phase high quality power supply provides decent power. Therefore, the Taichi X 8G OC+ edition features a boost GPU clock of up to 2040MHz, which is much higher than most other RX 5700 XT graphics cards to date.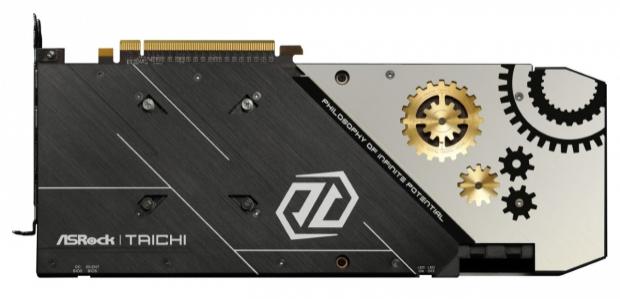 "Elegance makes glory!" Not only does the graphics card exceed in performance and quality, but exudes in design aesthetics. ASRock has paid a lot of attention and effort to product outlook. Adding a breath of sophisticated technology, the precise stacking and assembly of embedded gears makes the graphics card backplate more legendary to the eye, and brings a piece of design nostalgia - something users had never known before on graphics cards. The ARGB lighting on the front cover clearly displays its beauty and awesomeness. Accompanying this unique design is the center fan which is decorated with a moving colorful halo, something geeks can surely appreciate being purely Taichi X.
ASRock brings quality and reliability to the Taichi X series graphics cards by implementing a lot of high-quality components, such as a long-life power choke, two- ball bearing fans with 0dB fan-stop functionality, a high thermal conductivity pad, and galvanized thermal pipe. With quality and design being two elements, the ASRock Taichi X graphics card offers a reliable, practical-oriented futuristic aesthetic as it relates to connected work productivity, an exciting gaming experience, and earmarked for professional PC systems. The ASRock Taichi X series graphics card has introduced a successful visual design proof of concept as its marque product outlook. In addition to product quality, the company also offers a reliable, high-quality commitment in providing reliable hardware.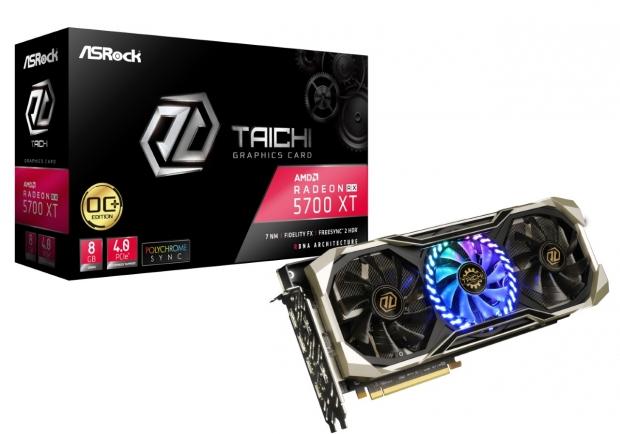 Coupled with the previous Phantom Gaming and Challenger graphics cards, the new series-production model - Taichi X is the first joint appearance of this visionary model to ASRock's design and is unquestionably the highlight of the ASRock graphics card product line. The world debut for the ASRock Taichi X, which redefines the graphics card genre with ARGB lighting renders a revolutionary aesthetic concept.