The AMD high-end daily driver of choice to power through office tasks and enjoy high quality content at home
September 06, 2019, Taipei, Taiwan - BIOSTAR, a leading manufacturer of motherboards, graphics cards, and storage devices, is proud to announce a new addition to its AMD socket AM4 motherboards with the BIOSTAR X470MH. Built for office workers looking to smoothly cruise through their daily tasks without setbacks and for home users looking for a strong and stable platform to run their HTPC, the X470MH is equipped with the latest features the PC industry has to offer while maintaining an affordable price point. And for those looking to push the limit, the X470MH offers overclocking possibilities giving the user the added performance benefit for faster gaming and task management without risking to damage their investment.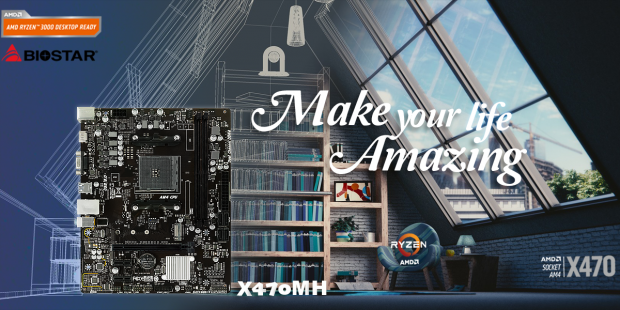 The BIOSTAR X470MH, equipped with AMD's X470 chipset and AMD AM4 CPU socket, brings support for AMD's latest 3rd Gen Ryzen 7nm processors. Built to make your daily computer needs a breeze, the X470MH is a Micro-ATX motherboard featuring USB 3.1 Gen1 support (5 Gb/s) providing fast transfer speeds and support to a wide array of peripherals, PCI-e M.2 at 32 Gb/s for increased system responsiveness, as well as HDMI 4K resolution to sooth the eye while watching Netflix or YouTube, and a VGA port for a wider range of monitor compatibility. In addition, the Internet and network connectivity will not be a drag with the onboard Realtek GbE LAN. Overclockers are not left out either with enough room for 2 x DDR4 RAM slots which support up to 32GB and overclocks at 3200MHz, making multitasking a pleasant experience.
Feature Highlights
AMD X470 chipset
AMD X470 is the high-end chipset for overclockers and tweakers who need a robust platform. This chip provides the ultimate low-level control to its users and delivers ultimate graphics card bandwidth
PCI-E M.2 32Gb/s
PCIe M.2 32Gb/s is the latest storage interface, it delivers the highest bandwidth and lower latency. It is 3 times faster compared with PCIe M.2 10Gb/s.
SATA III 6Gbps
SATA III 6Gbps provides a higher bandwidth to retrieve and transfer HD media. With this super speed data transfer, SATA III allows an incredible data boost which is 2x faster than the SATA 3G.
USB 3.1 Gen 1
Experience fast data transfers at 5 Gbps with USB 3.1 Gen 1--the latest connectivity standard. Built to connect easily with next-generation components and peripherals, USB 3.1 Gen 1 transfers data 10X faster and is backward compatible with previous USB 2.0 components.
Super LAN Surge Protection
Super LAN Surge Protection provides LAN port with more advanced anti-static protection capabilities by adding an integrated chip to strengthen electrical stability and prevent damage from lightning strikes and electrical surges.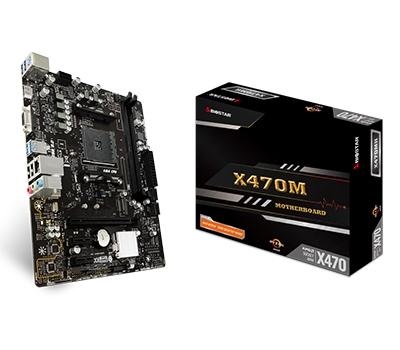 HDMI
Expresses bright and highly detailed content that fills the entire screen with lifelike images. The onboard HDMI connector, with its industry-leading high definition video quality, allows full video & audio support for you to enjoy TV shows and movies online such as YouTube or Netflix.
DDR4 Memory
DDR4 Memory delivers higher performance, higher DIMM capacities, improved data integrity and lower power consumption. Raising up to 32GB maximum capacity and 3000+(OC) MHz of DDR4 memory for multi-applications and better performance.
The BIOSTAR X470MHrear I/O features: 1 x PS/2 mouse / keyboard, 1 x HDMI port, 1 x VGA port, 1 x GbE LAN port, 4 x USB 3.1 Gen1 (5Gb/s) ports, 2 x USB 2.0 ports and 3 x audio jack.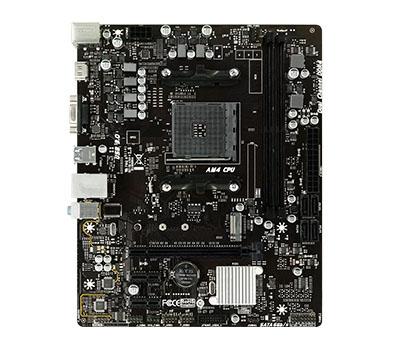 An AMD platform for everyone
Whether you need to drill down documents at work or simply have a computer that will take care of your browsing, entertainment or daily tasks needs, the BIOSTAR X470MH is geared to become your daily driver of choice with high-end X470 chipset. Built in a discreet manner without any fuss, the X470MH will fit in any build flawlessly while never letting you down.