Gather your friends, guild, and alliances as now is the time to ride once more towards a new beginning!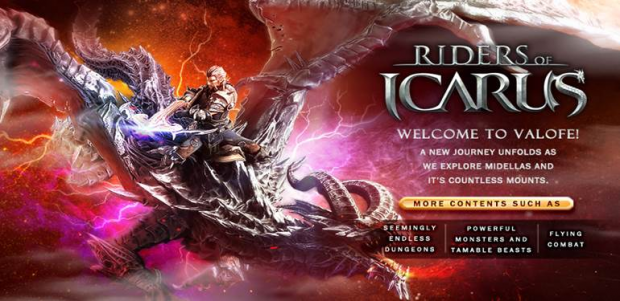 August 30, 2019 - Riders of Icarus has announced that service transfer from Nexon America to VALOFE has gone live last August 28. After three years of service from Nexon America, Riders of Icarus is now officially being published by VALOFE. With a myriad of games under the prestigious company's belt, there's no question as to how far VALOFE would be willing to go to keep continuous updates for a game as big as Riders of Icarus. Big updates also come with the service transfer as VALOFE steps it up with new content starting on day one.
Key Updates from the Service Transfer include:
The Journey to Midellas so far. With 50 new yet familiar quests waiting for you as soon as you log-in, these introductory quests are for players old and new with rewards exclusively from the new publisher.

Ellora's Trials. Similar to Ellora's Spire, this harsh new dungeon will allow you to team up with up to 2 other riders for a challenge like no other.
This is just the beginning of our content updates so be sure to check the website from time to time and never miss out.
Last updated: Aug 31, 2019 at 08:30 pm CDT